I'm Amelia. I have been working with hair care product shampoo and conditioner for 6 long years. This website is...Read more
I'm Amelia. I have been working with hair care product shampoo and conditioner for 6 long years. This website is...Read more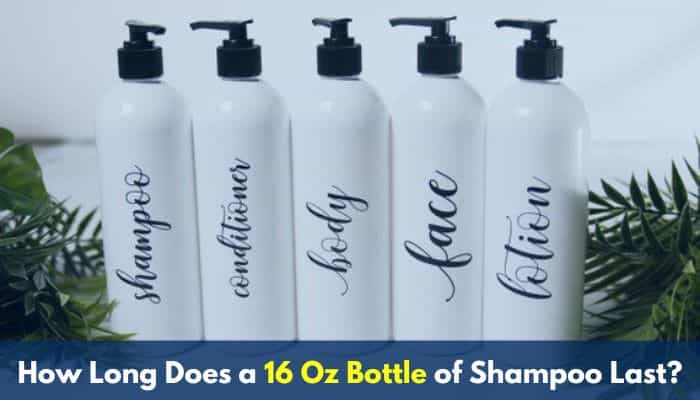 How long does a 16 Oz bottle of shampoo last? How many washes can you get from a shampoo bottle? How long will it last? – I bet you love to have big bottles of shampoos. It can even save money if it lasts for a prolonged time. If you are on vacation, you don't want to finish the mini-sized shampoo before the vacation is over. However, you just can't let them expire before using them up, right?
How long the shampoo will last depends on the bottle's size, frequency, and amount of usage. If a user shampoos two times a week, he may use 30% of it within a month. If he uses the shampoo daily, then it won't last more than three months indeed.
Don't be confused, as we have already discussed the shampoo's longevity in detail below. In this article below, we have also answered the most common faqs. So, stick with us now till the end and look for further details now!
How many washes do you get out of a bottle of shampoo?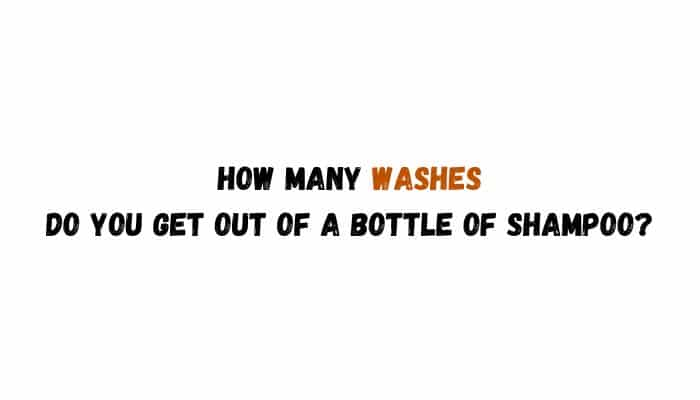 How many washes can you expect from a bottle of shampoo? It's really tough to give an accurate answer to it as it will largely depend on the size of the bottle, amount of usage, and length of hair indeed. The concentration, viscosity & even the dispenser of the shampoo bottle will have a huge impact on it.
Concentration
Suppose a user is using a high concentration 1L shampoo, then it will serve at least 100 washes. On the contrary, he will naturally pour more shampoo if the concentration is too low. Thus, the 1L shampoo might not last for even 50 washes.
Viscosity
Psychologically, users tend to pour more shampoos if the consistency is too thin. Thus the number of washes reduces simultaneously with a decrease in viscosity.
Bottle Type
If the shampoo is available in a pump dispenser, then users will get an exact amount of shampoo with every wash. However, you can't determine that amount accurately from a pouring bottle.
| | | | | |
| --- | --- | --- | --- | --- |
| Shampoo Size | Number Of Wash For Men | Number Of Wash For Women With Non-curly; Thin & Short Hair | Number Of Wash For Women With Long & Thin Hair / Short & Thick hair | Number Of Wash For Women With Long & Thi |
| Mini Pack | 20 | 10 | 7 | 5 |
| Regular Pack | 60 | 30  | 20 | 15 |
| Economy Pack | 190 | 95 | 65 | 50 |
Thus, a 16 oz shampoo can easily serve up to 25 to 35 washes.
How long does a 16 Oz Bottle of shampoo last?
How Long Does the 16oz Shampoo last? It's really tough to give an accurate answer as the duration may vary due to the frequency of use & its usage per wash.
Frequency of use
If an individual shampoo only once a week, then it will definitely last longer. If she has a habit of shampooing daily, then one regular-sized shampoo won't last more than two months. Moreover, if she shares the shampoo with anyone else, then it will obviously be over before expectation.
Amount of shampoo used per wash
The amount of shampoo an individual uses during each wash varies according to the hair type, thickness & length. Usually, women use 5 ml more shampoo than male in each wash. One teaspoon of shampoo may seem sufficient to one, while the other may prefer to over wash their hair.
Hair type
The longevity of a regular-sized shampoo will vary as per the hair type. Women with short & thick/ long and thin hair require more shampoos (15 ml) than the ones with short & thin hair (10 ml). On the contrary, a long & thick-haired woman has to use at least 20 ml of shampoo per wash.
So, if you wash your hair two times a week with a 16 oz shampoo, you will end up using at least 30% of it within a month. Thus, be ready to purchase a new bottle after 2 to 3 months if you are up for daily shampooing. It might last a bit longer if you prefer co-washing often.
Is it better to buy bigger or smaller bottles of shampoo for more savings?
Naturally, whenever we purchase anything in bulk, the price of each unit decreases. However, It's not always better to buy bigger shampoo bottles just because it's cheap. Why so? That's because- people end up purchasing more than they actually need.
Suppose you generally buy a 20-ounce shampoo bottle for $12. If you can get 180 ounces with just $45, it's indeed a great deal. However, do you really need that much shampoo? I think no. In fact, it can expire before you can use it all up. Moreover, if you use the shampoo too frequently just to finish it before the expiration date, you will end up damaging the hair instead.
Pros
Investing in a bigger shampoo bottle will be cheap indeed.
The user doesn't have to visit the shop again & again.
He won't feel insufficiency any time soon.
It's a great idea to deal with emergencies.
Cons
Buying a big bottle is expensive overall & it will cause financial difficulty in that exact month.
The shampoo might expire soon & the investment will go in vain.
The user will end up overusing it to finish it before the expiration date.
If he invests in a big bottle, he won't go for a new one in the next 1 or 2 years. So, there won't be any variations indeed.
Does it matter if I keep my hair in conditioner or not when using shampoo?
No, it doesn't actually matter if the hair is conditioned or not before shampooing. In fact, most people prefer to cleanse their hair with shampoo thoroughly and then go for further conditioning.
However, many individuals prefer reverse conditioning (Applying conditioner before shampoo) when their hair is too greasy and weighed down. According to hairstylists, reverse conditioning shouldn't be done more than once a week.
Reverse conditioning is somewhat beneficial as –
The conditioner protects the hair.
It prevents the stripping of excess natural oil.
The conditioner acts as a primer.
It allows proper distribution of the shampoo.
What is the expiration date on shampoo bottles?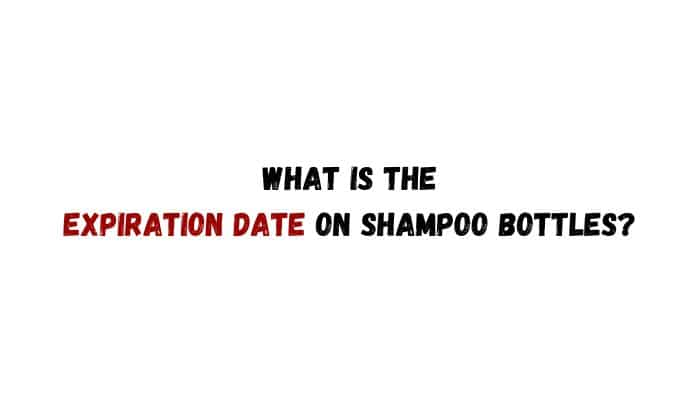 A user should not stock up on his favorite shampoo just because it's on sale in the super shop. He must check out when the shampoo will expire. Does he need that much shampoo, or is he just purchasing on a whim? What is the expiration date on shampoo bottles?
The chemicals in the shampoo will certainly decompose after a certain time frame. Users must know the use by exact date from the manufacturer. According to US laws, the FDA is not responsible for regulating the expiration dates of cosmetics. Thus, the manufacturers themselves carefully mention the product's 'Period after opening (PAO) or 'Expiry date' and ensure its optimum safety.
You will get such information on the shampoo's packaging. If you are still confused, contact the brand directly and look for the most authentic information. The Expiration Date will vary depending on its formula & preservatives.
Natural preservatives offer a decreased shelf life as they are less potent. According to a study in 2018, natural shampoos degrade faster than synthetic ones. If the shopkeeper stores the shampoo in an optimum environment, the unopened pack can last around 2 to 4 years. After opening the cap, it may expire between 6 months to 2 years.
Frequently Asked Question
Should I get rid of my old shampoo before buying a new one?
Yes, it's ideal to finish the previous shampoo before purchasing a new one as it will expire over time. According to Rivera – expired shampoos can't clean the hair effectively and can cause dullness due to their deformed chemicals.
How long does a bottle of shampoo last you?
A brand new, unopened bottle can last around 2 to 4 years due to proper storage. After opening the shampoo up, it will last for six months to 1 or 2 years. It will basically depend on the size of the bottle & amount & frequency of usage. A 16 oz shampoo bottle doesn't last more than 2-3 months due to daily usage.
How often does the average person buy shampoo?
If it's an American, he/she must love shampooing. According to modern shampoo manufacturers, Americans prefer shampooing around 4.59 times within seven days. Such a frequency is twice that of Spaniards & Italians. So, they have to purchase a new bottle of 10 or 16 oz shampoo every 2 to 3 months.
How much shampoo does one person use in a year?
According to the most recent research, an average person uses ten bottles of shampoo in a year maximally.
Conclusion
How long does a 16 Oz bottle of shampoo last? How many washes can you expect from a 16 oz shampoo? – Everyone had these queries when they settled up their hair care routine for the very first time.
As we have already explained, if you are a regular user, the shampoo won't last more than 2 to 3 months. If you prefer co-washing or washing the hair once/twice a week, then the 16 oz shampoo can support up to 9 months. So, consider your hair type, frequency & amount of usage, and choose between the regular or large-sized shampoos wisely.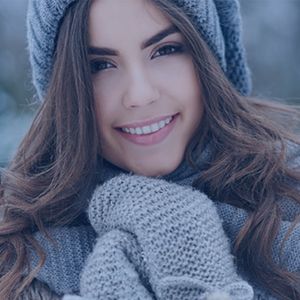 I'm Amelia. I have been working with hair care product shampoo and conditioner for 6 long years. This website is an outlet of my deep passion for hair, Shampoo and Conditioner. Basically, I'm here to guide you on shampoo and conditioner.