I'm Amelia. I have been working with hair care product shampoo and conditioner for 6 long years. This website is...Read more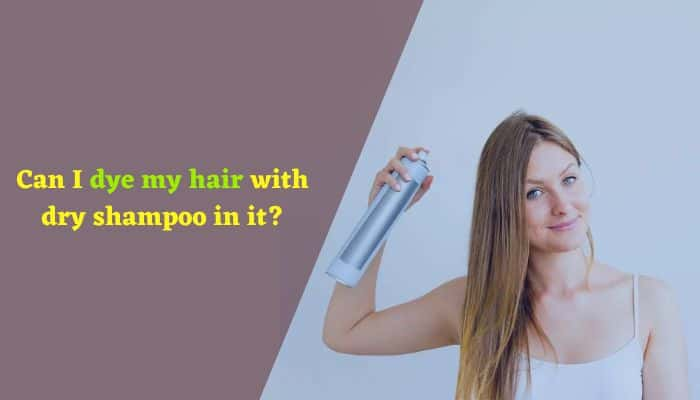 Dry shampoo is pretty effective when you have no time for washing and rinsing your hair. But using a dry shampoo before dying your hair is not a good idea.
Because some chemicals of a dry shampoo cause adverse reactions to the dying color. The reaction seems pretty intense. Therefore, don't dye your hair within the first 72 hours of applying a dry shampoo.
But what happens when you will dye your hair with a dry shampoo? Well, the dying process of your hair will stop as the color won't bond with your hair after using it. In other words, the dying process comes to an end because dry shampoo ingredients form a layer between the dying pigments or colors and the hair. This is the main reason why you can't dye your hair with dry shampoo in it.
How does dry shampoo affect hair dye?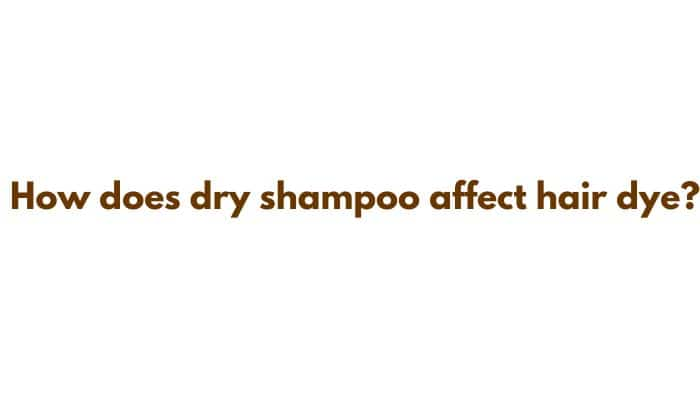 Dry shampoo is a type of hair care product that can be used to absorb excess oil and dirt from the hair. It is typically available in an aerosol can or a powder form and can be applied to the hair either with or without a brush.
Dry shampoo can be a great way to extend the life of your hair color. When used correctly, it can help to absorb oil and dirt without stripping away the color. However, if not used correctly, dry shampoo can cause the hair color to fade prematurely.
When using dry shampoo on color-treated hair, it is important to avoid the roots. The roots are vulnerable to mix with build-up after spraying dry shampoo on it. So, once applied there, it may cause the color to appear dull and lifeless. This is how a dry shampoo might affect the hair dye process.
So don't apply it on the roots. Instead, focus on applying dry shampoo to the mid-lengths and ends of the hair.
Be sure to choose a dry shampoo that is specifically designed for color-treated hair. Some dry shampoos can contain ingredients that can strip away color. When in doubt, always consult with your hairstylist or colorist to find the best dry shampoo for your hair type and color.
What is the best dry shampoo for colored hair?
Looking for a dry shampoo that will leave your hair feeling clean, soft, and healthy? Look no further than Klorane Dry Shampoo with Oatmilk! This gentle, all-natural dry shampoo is perfect for those with sensitive skin or scalp, as it's made with oat milk – a natural ingredient that's known for its soothing and nourishing properties.
Klorane's dry shampoo is also great for fine or thin hair, as it won't leave your locks feeling weighed down or greasy. Instead, it will actually help to volumize and texturize your hair, thanks to the unique formula that contains rice starch.
Best of all, Klorane's dry shampoo is quick and easy to use – simply spray it on your roots, massage in, and brush out. In just minutes, your hair will look and feel freshly washed – no water required!
We considered it as one of the best dry shampoo due to have its 4 benefits, and they are: 
It gently removes oil without stripping your hair
The shampoo yield the least white residue
It is 100% recyclable
Batiste has no drying formula or harmful chemicals
So if you're looking for a dry shampoo that's gentle, effective, and easy to use, be sure to give Klorane Dry Shampoo with Oatmilk a try – your hair will thank you!
How do you use dry shampoo?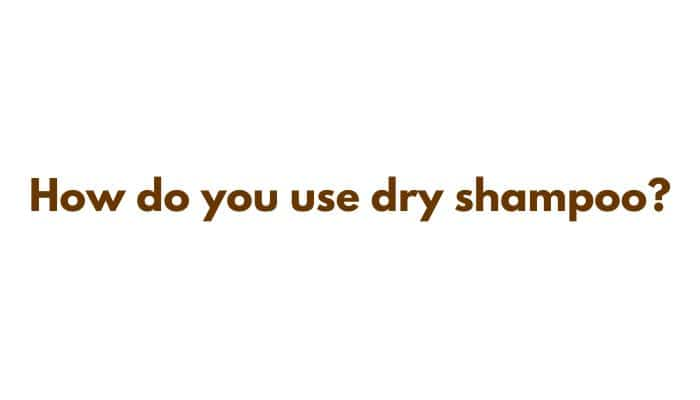 We do use a dry shampoo so it may eat up all the grease and oil. However, apart from them, a dry shampoo also dries out our essential natural oil from scalp. So you should come to know the best application of it so you can avoid drying natural oil.
Dry shampoo is a girl's best friend. It's the perfect solution for when you don't have time to wash your hair, but you need it to look presentable. It's also great for adding volume and texture to your hair. But, if you've never used dry shampoo before, it can be a little tricky to get the hang of it.
Because there are some things you need to avoid first before using it. Lets show them below:
Dry shampoo is for dry hair so don't use it after bath
You should not use it everyday instead of your regular shampoo
Don't apply it too much as your hair will look powdery and dirty
Don't use it on the mid and ends of your hair
Now here's a step-by-step guideline for you, so you can get the most out of it.
Start with clean hair. This may seem like an obvious step, but it's important. If your hair is already dirty, the dry shampoo will just absorb the oil and dirt, and it won't be as effective.
Shake the bottle of your dry shampoo at least ten times. This will help to evenly distribute the product.
Hold the dry shampoo bottle about 6 inches away from your head. If the aim is perfect then spray it into your roots. Be sure to focus on the roots and not the ends of your hair.
Let it sit for a few minutes. This will give the dry shampoo a chance to absorb the oil and dirt.
What happens when you dye or bleach your hair with dry shampoo in it?
By the way, there are two type of dying processes, the one is for temporary basis and the other is for the long haul. In both conditions, one catalyst opens the cuticle layer of our hair shaft. It is Peroxide which is responsible to allow color pigments into hair shaft.
The Amonia peroxide is for temporary penetration and the Hydrogen peroxide is used for the permanent hair coloring.
This type of chemical elevates the pH level of your hair to that extent so the cuticle will lift up. Once the cuticle relaxes so it lifts up, then the color pigments create a foreign color layer.
By doing this, it disperses the natural tone of our color with the artificial color. The strength of such dispersment depends on the formulation of peroxide.
What are some tips for dyeing ombre hair?
If you're looking to add a little bit of color to your hair, ombre is a great option. Ombre hair is a type of hair color where the roots are a dark color and the ends are lightened. It's a popular choice for those who want to add some dimension to their hair without going for all-over color.
If you're thinking about dyeing your hair ombre, there are a few things you should keep in mind.
First, you'll want to make sure that your hair is in good condition. Ombre hair can be quite damaging, so if your hair is already dry or damaged, it's best to avoid it.
Secondly, make sure that you have the right products on hand. Ombre hair requires a lot of upkeep, so you'll need to invest in some good quality shampoo and conditioner.
When you're ready to dye your hair, you'll want to start with the darkest color at the roots. To do this, you'll need to divide your hair into sections.
Finally, start by applying the color to the roots of each section. Then, use a brush to blend the color down the length of your hair. when you've reached the end,
Frequently Asked Question
How long does dry shampoo stay in your hair?
Dry shampoo stay in your hair for at least 2 or 3 days. However, if you will use a clarifying shampoo on the following day of using the dry shampoo then, it will go away.
Can you dye you hair twice in one week?
Yes, you can use a dry shampoo up to two times per week. Because, if you change the routine for a daily basis, then it will stipe out your natural oils from scalp. Dry shampoo is for occasional hair washing treatment and skip it for the daily uses.
How does hair dye penetrate into the hair shaft?
Hair dye easily penetrate into your hair shaft with the help of Amonia peroxide. Such chemical open the hair cuticle gently then the color pigments can enter into the hair shaft.
Conclusion
Yes, you can dye your hair with dry shampoo but don't apply before the dying process. The dying process takes 2 to 3 days. So once, the color makes bonding with your hair then it is safe to use a dry shampoo. We have already told how to use it as well so follow the rules. By the way, if you have more questions about it, then feel free to ask us.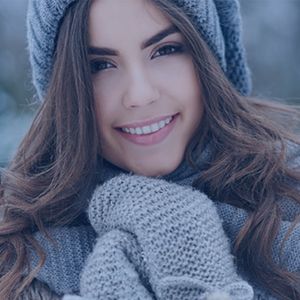 I'm Amelia. I have been working with hair care product shampoo and conditioner for 6 long years. This website is an outlet of my deep passion for hair, Shampoo and Conditioner. Basically, I'm here to guide you on shampoo and conditioner.