I'm Amelia. I have been working with hair care product shampoo and conditioner for 6 long years. This website is...Read more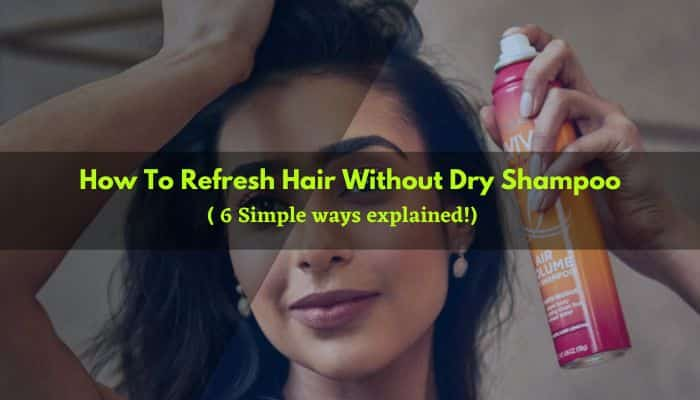 Refreshing hair takes time but I make it fast by using dry shampoo. But it is not a solution for washing grease, residue, and oily roots. Because, it brings many unhealthy stuffs to our scalp and sometimes cause hair breakage. If we follow any celebrity hairstylist then we must know they seldom suggest to use dry shampoo for a regular basis.
On the other hand, the dry shampoo comes with strong scent which is unwelcoming for many of us. So if we want to avoid using dry shampoo and take solution from organic sources, then get ready to read this article. I have discussed everything here!
I will not only suggest you with some alternatives of dry shampoo but also, I will tell you some tricks on how to refresh hair without dry shampoo.
What can I use to refresh my hair?
Actually, when I search something on the internet to know how do I refresh my hair, oftentimes I get results suggesting dry shampoo. However, there are many other effectives ingredients available and by using them we will get some instant results.
Lets give you some ideas about them now……..
My first recommendation to you is to use Cornstarch and Cocoa powder. For light hair strands, I only suggest you to use Cornstrach alone. It works amazingly just after applying them on our scalp.
However, people with their curly and dark hair should mix some Cocoa powder along with Cornstarch.
Now, if we don't get any help by following the above tips, then we need a more powerful solution.
For instance, we have a greasy scalp, also our roots become oily. Hence, the only solution would be teasing our roots.
The teasing formula comes with the honey mixed water solution. In that case, we will mix a few drops of water with honey then, leave it to the hair roots.
Here the water will make the honey non-sticky so our hair will find outstanding lift and volume.
How to refresh hair without dry shampoo?
We should forget about using dry shampoo and try out the following items or tricks to refresh your hair for the long haul.
Refresh your hair naturally
What would be the best alternative to refresh our hair without dry shampoo? Well, using water, honey, baking soda and apple cider vinegar would be the best solution.
So, lets try the following methods:
Rinse your hair with water & honey mixture: This will help to weaken all the unwanted build-up. By the way, we can try Gisou Honey Infused Hair Oil. Because it comes with all the natural honey-substances along with moisturizing oil.
Mix a cup of water with a half cup of apple cider vinegar. This will help to remove any unwanted oils from our hair.
Rinse your hair carefully now with the apple cider vinegar mixture. Make sure that the extracts will reach to the roots to hair cuticles.
Now it is high time to mix a cup of water with a quarter cup of baking soda. Because this will help us to eradicate any leftover residue, mist, dirt and grime from our hair.
Now, rinse your hair with the baking soda mixture.
Finally, we have done almost everything, all we need to do is to take 5 minute refreshing shower.
Refresh your frizzy curls without dry shampoo
If your curls are looking dull, it could be because they're buildup from products, dirt, and oil. Clarifying shampoos would be the best alternative compared to any good dry shampoo. Because it will make sure the deep cleaning of your hair and  you may get rid of all that build-up. Afterward, you can get more help from a leave-in conditioner.  
The processes are given below:
Start by shampooing and conditioning your hair as you normally would.
Next, apply a leave-in conditioner to your damp hair.
Then, use a wide-tooth comb to gently detangle your hair.
Once your hair is detangled, apply a Verb curl styling cream to your wet hair.
Use a T3 volumizing hair diffuser to dry your hair on a low-heat setting.
When your hair is about 80% dry, scrunch your curls with your hands to help them form.
Finally, apply a light-hold hairspray to help keep your curls in place.
How to refresh you long hair by trimming
If you have long hair, you know that it can be a pain to keep it healthy and refreshed. One of the best ways to do this is by trimming your hair regularly.
While you may not want to cut off any length, trimming your hair will help to get rid of any split ends and damaged pieces. This will leave your hair looking and feeling healthier overall. So, how often should you trim your long hair? The general rule of thumb is to trim it every 8-10 weeks.
However, if you notice that your hair is starting to look a bit dull or damaged before that, you can trim it more often. When trimming your long hair, be sure to use sharp scissors. This will help to prevent any further damage to your hair. 
Start by trimming small amounts off of the ends until you reach the desired length. 
Once the trimming is done, then you can use Argan oil at the ends of it. It will help when you are facing hair breakage.
If you want to refresh your long hair in between trims, there are a few things you can do. First, use a deep conditioning treatment once a week. This will help to hydrate and nourish your hair, making it look and feel healthier.
For the better result, use a clarifying shampoo that suits you the most for the final refreshment of your hair.
Refresh your hair using Olaplex serum at home
If you are not getting results after using or following the above methods, then this will help you out for sure. Here I suggest you for using a Olaplex serum as it suits to any hair-type. Here are the way to use it:
Before using a serum, you must know when to use it. Well, using on the damp hair will be effective a lot.
Now, you will need to know what amount of serum you should use. If you have light or thin hair then use less amount of it, for example, I suggest you to use walnut sized amount of it. For thick hair use more accordingly.
Here comes to tell you the application process of using serum. Since serum is a thick substance, so you should warm it up using your palms. It will take a few seconds, afterwards use it at the ends of your hair. Once done, then go on to the middle strands of your hair then finally, go to the roots.
Important hacks: Why I suggest to use it on damp hair? Because on the damp hair the serum will create a protective layer. Therefore, it saves our natural Keratin balance and lock the moisture as well.

After application of serum, a wide tangle free tooth comb will be handy to distribute all of the serum extracts evenly to your hair.
Refresh your hair after a ponytail
To follow the style, you need long hair. Because you will follow a high pony hair style and then twist the tail to wind it into a bun.
The end part will tie up with a snag-free headband and keep this messy bun for at least 10 minutes. Such style will give your hair a unique pose so the scalp oil will evenly distribute to the entire place.
So, you will have less chances to face with greasiness. Moreover, when you will go outside, your hair will be less vulnerable to dust, grime, and any harmful foreign particles.
Use wet wipes
When you only need to get rid of greasy hair, the quickest way is to apply wet wipes. This tip won't work when you have additional issues like dry or damaged hair.
The wet wipes works great as the Alcohol remains to it and works as a great cleanser. When you will rub the wet wipe on the greasy part of your scalp, the greasy strands will naturally go away! It is a quick fix to the limp greasy hair. Don't take it as the best way to refresh your hair.
Using a clarifying shampoo and rinsing your hair regularly will only give you the ultimate hair refreshment.
Important tip: Don't overuse the wet wipes once you see the minimum result. It helps but at the same it has adverse effect too. Alcohol may strip your natural oil so apply it with caution. 
What is the best way to refresh hair without dry shampoo?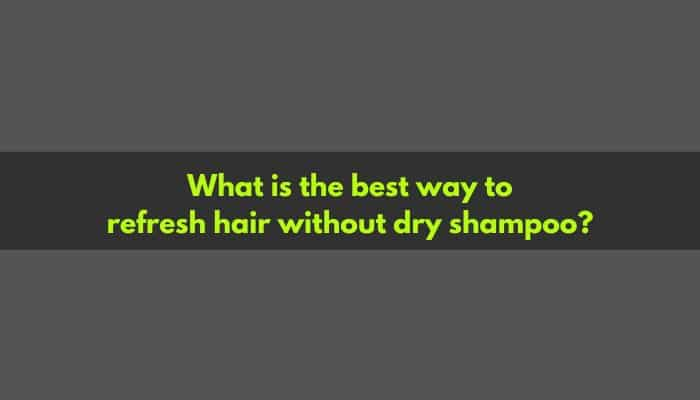 The best shampoo is the one that suits your hair type. This is why, it seems okay for daily wash.
The best way to refresh hair without dry shampoo is to use such type of regular clarifying shampoo. This will remove any build-up from the hair, and leave it feeling clean and refreshed.
Now all you need to have is to check out your purchased products. Is it contains any harmful or harsh chemicals like silicones and sulactants or not? If yes, then bring a shampoo that is friendly to your hair and effective for the long haul.
When your regular shampoo contains harsh chemicals then it will strip your natural hair. On the flip side, when your shampoo come with some organic ingredients then it works as the best one. So, you should opt for a shampoo that comes with Aloe vera, Coconut oil, and other natural items.
How do you refresh hair between washes?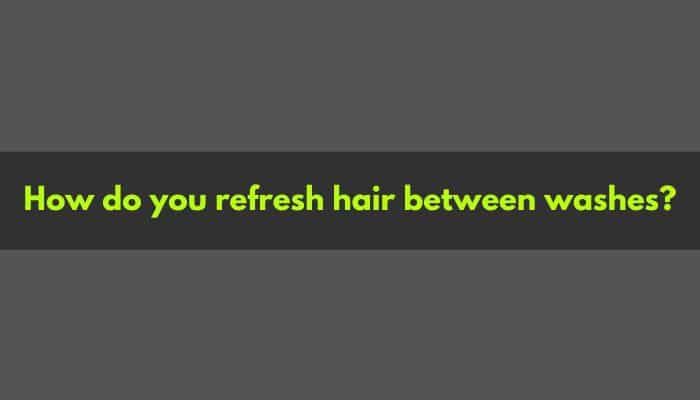 There are a number of things you can do while refreshing your hair between washes except using dry shampoo.
Use a right brush for your hair
Before trying a few ways, the first and foremost tip for you is to use the right brush.
Brush is a common but amazing hair stylist tool when you can use the right one. Since you are caring your hair a lot, so we assume that you know the perfect brush for your hair type.  By the way, a paddle brush is ideal for all hair types.
Now on, everyday after wash or between washes, you will comb your hair. Don't take this tip as a magical one, because you will get results after keep combing your hair for the long haul. 
During that timeline, your scalp will get natural oils as the comb helps to distribute oils evenly.  When you will comb your hair between washes then the residue also keep coming out.
Use a light & effective conditioner between washes
Sometimes our regular clarifying shampoo alone can not kick out all the oily and greasyness from the hairline. Here, rinsing your hair a little bit using a light conditioner will be a game changer.
The aftermath of using a conditioner will give you a total refreshment.
How can I moisturize my dry hair without washing it?
Before you think of moisturizing your scalp, you need to inspect your hair. To do so, run your finger through hair and sort out- do you hear the crunchy sound?
Also, pull on the hair strand, and see whether there is any hair breakage or not. In short, you need extra care with your frizzy hair.
With frizzy hair you won't think about combing your hair so the hair oil will evenly distribute. Because it will lead to the hair breakage and you will get awful experience.
There is no miracle product available which will bring enough moisture to your scalp by the product itself. The resource remains on your scalp that is the secretion of the sebaceous gland. So, try to nourish your scalp and maintain the regular hair routine.
Is there any risk of adding too much conditioner and making my hair greasy instead of refreshed?
Yes, your hair conditioner sometimes make your hair greasy. Lets get straight to those reasons below:
Using the wrong conditioner that suits to your hair type and texture
Find and thin hair is less susceptible to become greasy and oily. So, stop using a conditioner for such hair type.
For the worst experience like damaged and naturally dry hair needs more care. Here a great hydrating conditioner will be the solution.
You are not applying your conditioner properly
Never apply the conditioner from the roots to the ends unless your hair type and texture won't need it.
On the other hand, for dry and damaged hair, apply the hydrating conditioner through the all hair strands. So, you will get the optimum result once your hair roots become hydrated. Same thing will get adverse result when you do it for a straight, fine or thin hair.
Hair becomes greasy after using the rinse out and leave in conditioner improperly
Rinse out and leave in conditioner both are not effective while using. For some hair types and texture both would be fine and other hair type need only one product.
So, if you are not using them at right harmony, then the hair will become greasy and oily.
Don't undergo deep conditioning frequently or stop it for good
The deep conditioning treatment is not suggested for all. Oftentimes, our hair experts can only suggest you either use it or not. Even though it suits you, you can not over-do it. It will make your scalp oily, limp, or greasy very soon also, damage the hair roots.
Can I use dry shampoo on my scalp or should I only use it on my ends?
Yes, you can use a dry shampoo on your scalp as it helps to kick out residue and grime.
Here you need to know where to aim it for spraying and where not. 
Aiming your dry shampoo at the right area and then applying it on your hair is the most important thing to consider.
Because, the wrong process of applying a dry shampoo will leave white residue which is not easy to remove.
Stay with the reason- why you are using a dry shampoo? Isn't it because you can manage your oily scalp from foreign materials like grease, dirt, grime, and residue? 
If yes, then focus on the oily roots only. Also, know the quantity or how many times you should shoot the spray. Well, for the thicker hair use more and for the thin hair use less.
Frequently Asked Question
What dry shampoo will make my hair not chalky?
It is not your dry shampoo which make your hair chalky rather it is the way how do you apply it. When you will apply it at the entire scalp or overuse it, then you will must your hair chalky. For thicker hair apply more and for thin hair apply it less.
Can I refresh my hair everyday?
Yes, you can refresh your hair everyday when you have experimented your hair type and texture with the right products. Overall, washing your hair everyday will make your hair refreshed all the time.
Final Words
At the end of this article, we should come to know what is our hair type and the condition of it. Because, depends on our hair type, we will choose one or 2 processes to do it. I have tested all of those processes and then applied them to the right people at right harmony. Hence, we can nailed it.
Don't experiment your hair to see the best result rather pay a visit to the professional hair experts. This article only discussed about different ways to refresh our hair and choose the best tip wisely according to our hair type and texture. Hopefully, we will get some positive result out of it.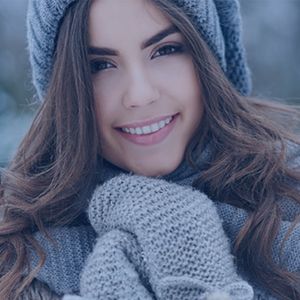 I'm Amelia. I have been working with hair care product shampoo and conditioner for 6 long years. This website is an outlet of my deep passion for hair, Shampoo and Conditioner. Basically, I'm here to guide you on shampoo and conditioner.