I'm Amelia. I have been working with hair care product shampoo and conditioner for 6 long years. This website is...Read more
I'm Amelia. I have been working with hair care product shampoo and conditioner for 6 long years. This website is...Read more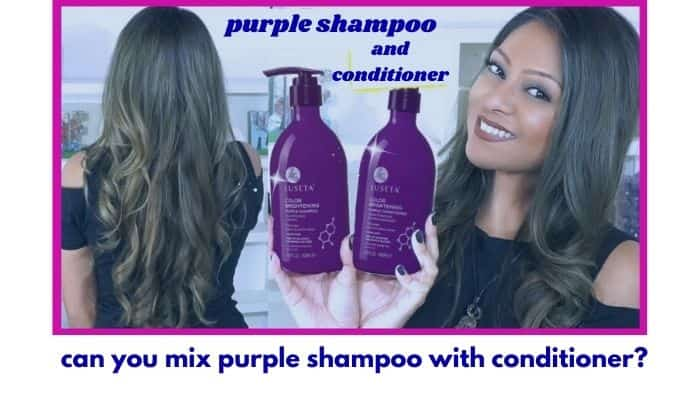 Have your hair become dry, dull & discolored after dyeing? Do you want to bring a natural shine by reducing brassiness? I bet you have already that – purple shampoo is the only product that can treat and repair damaged hair. It's true indeed but how to use the purple shampoo? Can you mix purple shampoo with conditioner?
These queries are too confusing and taking a random decision will destroy the hair completely. I believe you are well-aware and that's why you have continued with our content. Actually, it's an incredible idea to mix up the purple pigmented shampoo & a regular conditioner because – the conditioner will retain moisture to the dry hair while purple shampoo will bring the preferred tone.
Don't be tense as we have held a detailed discussion below on Purple shampoo vs conditioner where we have responded to the most frequent inquiries. We have also picked the best purple conditioner and shampoo to moisture, nourish & tone the hair. So, let's not delay anymore and jump inside for further details!
What is purple shampoo and conditioner?
Almost everyone out there has heard about purple shampoo. However, have you ever wondered, why purple shampoo is so famous for toning the brassy yellow hair? 
A purple shampoo is a purple pigmented shampoo which has high efficiency in neutralizing the light or yellow tones. According to the color wheel, purple occupies the opposite position of yellow. So, purple can quickly counterbalance the yellow and bring back the fresh & vibrant blonde you will love.
On the contrary, a conditioner tends to improve the overall manageability and texture of the hair. In order to tone the hair, you can either go for a regular conditioner or a purple conditioner as per requirements. Diluting the purple shampoo with a regular conditioner will moisten the hair. However, If you require an intense tone with moisture then go for purple conditioners.
How does purple shampoo and conditioner work?
As we have already mentioned, purple pigmented shampoo works by canceling yellow, blonde or light shades. That's because it is the natural neutralizer of yellow. They can easily bring a cool color by reducing the warm tones. So, after washing the hair with a purple shampoo, the hair will become fresh & shiny by hiding brassiness & imparting a platinum look.
The purple shampoo can make the hair dry or can even leave a lilac stain. In this context, dilute the purple shampoo with a regular conditioner to tone down the intensity. The conditioner will also play a great role in preventing breakage. On the other hand, A purple conditioner is pigmented with purple or bluish tint to moisture and intensify the tone even after shampooing. The purple shampoo and purple conditioner work together to bring an instant shine & tone while preventing dryness & dullness.
Can You Mix Purple Shampoo With a Conditioner?
Yes, it's possible to use the purple shampoo with a regular or purple conditioner as per the requirements. If you want moisturized hair with a shiny ashy tone, use the purple conditioner only with the purple shampoo. If you want to reduce the intensity of the purple shampoo, dilute it with the regular conditioner & gain the preferred hydration.
What is the best way to mix purple shampoo with conditioner?
Have water and chemicals damaged the hair tone? I believe yes, that's why you are looking for the best purple shampoo & conditioner to reverse the damage. So, Can you mix purple shampoo with conditioner? How to mix purple shampoo & conditioner?
Obviously you just can't choose a random purple shampoo. You must not leave it for too long as well. For the best results, we would recommend to use it once a month minimally & twice a week maximally.
How to use the Purple Shampoo & Conditioner Mixture?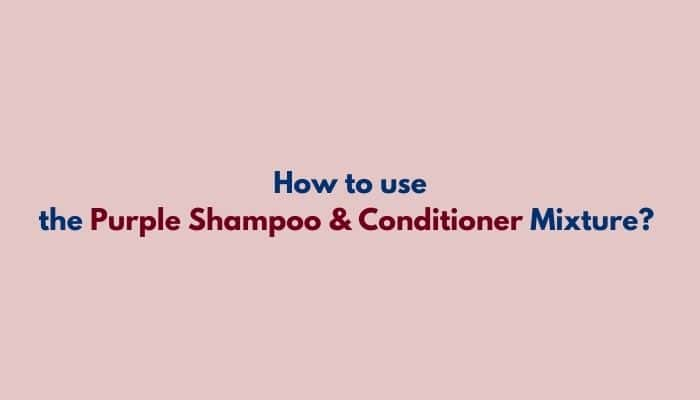 Step 1: Choose A Purple Shampoo With Suitable Pigments
Firstly, choose a purple shampoo which has a thick consistency. The choice of the pigment is highly dependent on the hair color itself. For instance – If your hair is platinum or light blonde, go for a shampoo with indigo or blue pigments.
Step 2: Choose A Conditioner For Proper Conditioning
Just go for a regular conditioner to moisturize the hair if you don't have any special requirement of strengthening the purple pigments of the purple shampoo.
Step 3: Mix The Shampoo & Conditioner
Mix the shampoo and conditioner thoroughly together.
Step 4: Apply It Thoroughly 
Take warm water to dampen the hair. Now apply the mixture thoroughly from the root to the tip. It's highly significant to apply on the roots as it can play a major role in repairing the scalp & preventing the upcoming damages.
Step 5: Set The Mixture For A While 
Keep the mixture for 2 to 3 minutes if the hair is blonde and shows light brassiness. We would recommend letting the mixture sit for fifteen minutes if she has color treated blonde hair. If your hair is gray, the time requirements might increase up to 30 minutes.
Step 6: Rinse It 
Rinse it thoroughly and achieve the preferred tone.
How do I know if my hair can tolerate mixing purple shampoo with conditioner?
What if the mixture of shampoo & conditioner worsens the tone & texture of the hair? What if the mixture doesn't suit the hair? It's natural to be concerned before trying any new product as it's about your precious hair after all.
As we have already mentioned, purple shampoos are specifically manufactured for blonde peeps whether its natural or color treated. The mixture of purple shampoo and conditioner is suitable for hairs like-
Blonde
Gray
Platinum
White
Pastel.
Light Brown.
Ash blonde.
How often should I use the two products together?
The mixture of purple shampoo and conditioner is certainly awesome to maintain the tone while keeping it shiney & lively. However, using purple shampoo during every wash might not be a good idea as it tends to dry out the hair. So, we would advise not to use the mixture more than twice a week. Using it more often might cause adverse effects like hair breakage.
Is there a downside of mixing these two products together?
It's totally natural to be worried about downside & side effects while trying any product for the very first time. However, don't worry as we have conducted detailed research in this context. Our team has assured us that mixing purple shampoo & conditioner won't have any adverse side effects. So, ease up and impress everyone with the shiny & ashy tone.
What is the best purple shampoo and conditioner? 
In the market there are thousands of purple shampoo and conditioner available. However, we don't want to confuse you by a massive list of products. That's why in this segment, we have picked the 2 best purple shampoo and conditioner which will make your hair soft, shiney and lively. So, let's check below to know why we have considered them best among all.
L'Oreal Paris is a leading brand in the skin care, styling and hair care sector. Their innovative team has created a sulfate free purple dye with hibiscus in order to moisturize and brighten the hair. Just apply it 2 to 3 times in a week instead of the regular shampoo and that will suffice. 
This shampoo and conditioner set will reduce yellow or orange brassiness while providing the required hydration. We would highly recommend it for toning blonde, bleached and silver hair. As the formula is free from vegan, sulfate, paraben and harsh salt, there is no significant possibility of hair damage.
We have specially recommended this one as it can cool down the yellowing tone without turning the hair into purple. You can rely on this one as it's quite affordable as well as effective.
The brand Joico has dedicated themselves in producing a formula that will keep the hair tone to its shiniest condition. Other than toning the hair & maximizing the shine, they also focus on defying damage while providing protection against heat & UV rays.
Joico Color Balance Purple Shampoo can cleanse the hair while decreasing the yellow tones. It can also rehydrate the dry hair and maintain the preferred texture by their marine ingredients & Deep quenching. The Joico conditioner is quite light and creamy to increase overall balance & manageability. Due to its neutralizing effects, it's considered as a great choice to nurture the shine of blonde & gray hair.
We have specifically highlighted this hair care shampoo and conditioner as it provides the preferred ashy tone instantly. It will show marvelous changes even if you set it for 5 to 7 minutes.
What is the difference between purple shampoo and conditioner?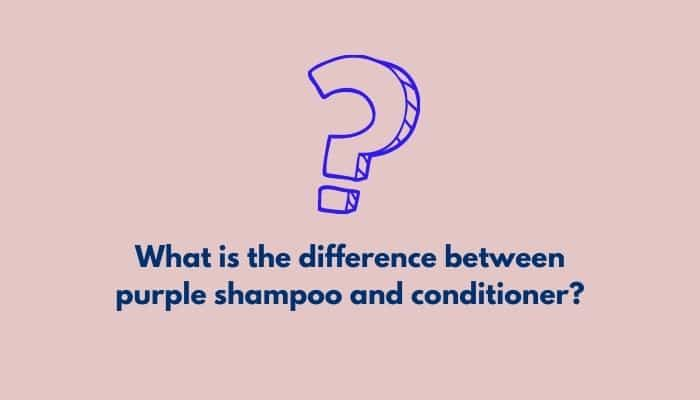 In terms of ingredients and functions, there is a huge difference between purple shampoo and conditioner. That's because purple shampoo mainly focuses on canceling the yellow tones. On the contrary, the purple conditioner tends to boost up the ashy tone while ensuring proper hydration.
| | | |
| --- | --- | --- |
| Purple Shampoo  | Purple Conditioner  | Regular Conditioner  |
| Purple shampoo is generally a toning shampoo containing violet dye. | It is designed to intensify the effects of the purple shampoo. | It is generally used to dilute the purple pigments. |
| The violet pigments of the shampoo cancels out the yellow orange tone of the blonde/gray hair. | It can also moisturize the hair but its hydrating ingredients are not as effective as regular conditioner. | Regular conditioner is designed to hydrate the hair & make it more manageable. |
| Purple shampoo can make the hair dry, dull & brittle. | Purple conditioner can hydrate hair to some extent. | They save your hair from dryness & dullness. |
Frequently Asked Question
Can I mix purple conditioner with regular conditioner?
Yes, you can. However, the best solution is to mix the purple shampoo with a moisturizing hair mask. It will definitely reduce brassiness while keeping the hair soft, shiny, smooth and moisturized.
Why do people use purple shampoo?
Purple shampoo is a great solution to cancel out orange or yellow tones from blonde, gray or light Brown hair. To some extent, purple shampoos might be too dry.So, it would be best to use some conditioner or moisturizing hair mask to maintain an optimum growth.
Can you use purple shampoo and conditioner together
If you are specifically up for an ashy or pale tone, then pair up the purple shampoo with a purple conditioner. If you wish to downside the effects of purple shampoo then dilute it with your regular conditioner.
Can you use purple shampoo on dry hair?
I won't recommend it at all as purple shampoos are already pretty dry. Moreover, the color absorption might be uneven as well.
Final Verdict
Can you mix purple shampoo with conditioner? Is it okay to mix these two together? I believe our content has already cleared up all these confusions. So, you can pick your preferred purple shampoo without worries & reduce yellowish tone to let the hair shine. I'm confident that
Our recommended purple shampoos are the best in 2022. We have loved them for their toxin-free formula and instant effectiveness. Be very wise before you invest in the shampoo because it is all about your beauty after all.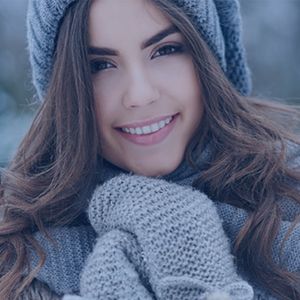 I'm Amelia. I have been working with hair care product shampoo and conditioner for 6 long years. This website is an outlet of my deep passion for hair, Shampoo and Conditioner. Basically, I'm here to guide you on shampoo and conditioner.