I'm Amelia. I have been working with hair care product shampoo and conditioner for 6 long years. This website is...Read more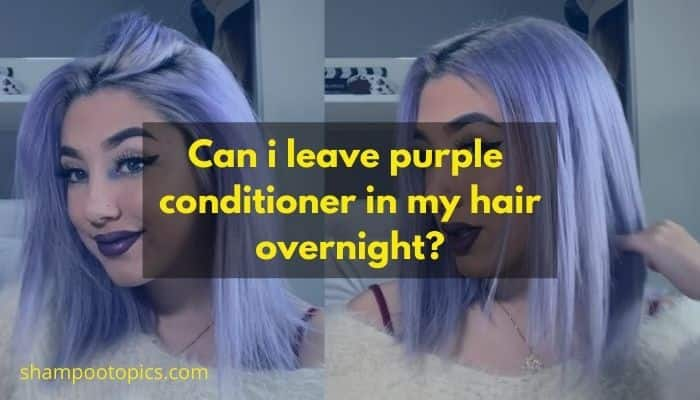 Women have always been sensitive to hair. They love to experiment with different colors and hairstyles. But colored hair needs special care to maintain. For instance, people with blonde hair color often use purple shampoos and conditioners. Since these shampoo and conditioners contain chemicals, many people keep questioning, "can I leave Purple Conditioner in my hair overnight? So, I am here to relieve you of this tension.
People who have silver or blonde hair color sometimes face the problem of brassy hair. That's why they use purple shampoo and conditioner to get rid of brassy hair. But some people, out of knowledge, leave the purple conditioner overnight on the hair and end up with intensely dehydrated hair.
So, this article will focus on whether people can leave Purple Conditioner on hair overnight. Besides, the readers will be familiar with some additional information and FAQs. So, let's start.
What is purple shampoo and conditioner?
Suitable hair color has the power to transform a plain lady into a stunning one. Blonde, Silver, Caramel Highlights, and Glossy-Brown are the most fashionable hair colors in recent years. Many people are adorning themselves with these colors.
Based on hair color, a person needs to use shampoo, conditioner, and a mask. As different colors result in different outcomes. For example, those who have dyed their hair blonde or silver detect brassiness in their hair within a week after dyeing it.
I know, now a question is peeping in your mind: what is hair brassiness? It refers to an unexpected yellow shade on the blonde color-treated hair. In simple terms, hair brassiness fades away the hair color given by the salon while replacing it with a yellow tone.
That's why there is purple shampoo and conditioner since purple color can neutralize the yellow color. Moreover, the purple color helps to balance the brightness of the highlighted hair strands. So, the users can maintain the hair color for a long time.
While shampoo is primarily responsible for reducing brassiness in hair, some purple conditioners can also provide the user with a purple tint on hair, albeit at a more moderate level.
How to use a Purple Conditioner?
I have mentioned below the process of applying a purple conditioner step by step. So, the user can easily understand the process. So, let's begin.
Cleaning hair
First, clean the hair with shampoo. For cleaning, one can use regular shampoo. But a purple shampoo will best serve the intended purpose. 
preparing the condition for use
Some purple conditioners come in bottles, and some are in tubes. One must shake the conditioner tube or bottles before applying them to hair because these conditioners are highly concentrated.
Applying conditioner
Take a generous amount of conditioner and then apply it thoroughly to the hair strands. Pay extra care on the hair ends as they are more vulnerable than other parts of the hair.
Time duration 
Read the product instruction and leave the conditioner on the hair as per the instruction. Please don't leave it for a longer time.
washing off the conditioner
After the allotted time, wash the conditioner with water to intact the smoothness and brightness of the hair.
Re-cleansing
If you notice some violet pigmentation on hair, rinse off the conditioner again with water
More pamper
One should use a hair mask, essence, or serum after using conditioner for more hair nourishment. Because some purple conditioners also make hair dry. 
Further tips
Don't use purple shampoo or conditioner every day. It is better to use them twice a week.
If the conditioner has purple pigment, use gloves before using it. It can also deposit pigmentation on the clothes and bathtub. So, wash them just after cleaning the hair. 
Never use purple conditioner on dry hair. Remember that these products are only for wet hair.
How long can you leave the purple conditioner on your hair?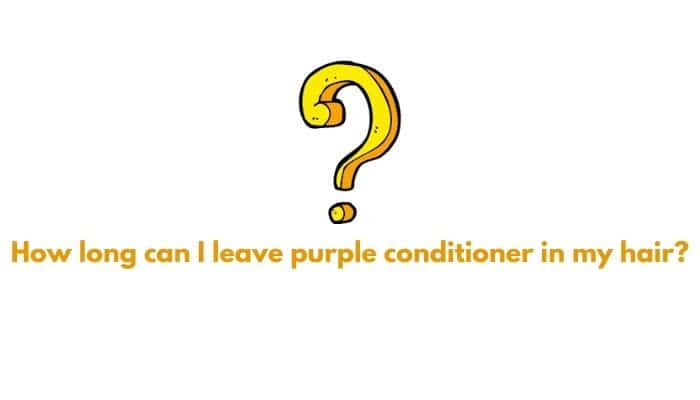 How long the user should leave the condition on hair depends on the type of the condition. There are different types of purple conditioners in the market. Some purple conditioners contain violet pigment into it. Therefore, they can provide the user with a purple tint on the hair. 
However, the users should not leave the pigmented purple conditioner on the hair for a long time.Five to ten minutes is quite enough to have a light purple tone in hair. But if a user wants a high level of a purple tint, she can leave the pigmented purple conditioner for about twenty minutes. 
In contrast, if your conditioner doesn't have purple dye, then it will perform just like other regular conditioners. In this case, one can leave the conditioner on hair for ten to fifteen minutes. It will be enough to lock the moisturizer of the hair. 
Can you leave the purple conditioner in your hair for an hour?
It would not be very wise to keep the purple conditioner on hair for one hour as colored hair is more prone to damage. Moreover, purple conditioners contain chemicals. So, leaving the conditioner on hair for a long time can cause intense lilac staining. 
But if the user is looking for a darker purplish tint on hair, she can leave it for a maximum of 10 minutes. Don't leave it more than that. Besides, the manufacturers mention how long the user should keep the conditioner in the shower. So, it would be beneficial to follow the instructions.
Can you sleep with purple conditioner in your hair?
The primary purpose of both Purple shampoo and conditioner is to cover up the yellow tone in hair. If a user sleeps with a purple conditioner containing violet pigments, it can over-light the hair color. So, the over-lightening hair color may ruin the hair color that the salon has put on. Besides, an entirely dark purple color would not be so lucrative. So, avoid sleeping with a purple conditioner.
Can I leave my purple shampoo in my hair overnight?
Purple shampoos are a more intense pigmented product. They are mainly responsible for lightening your darkened hair shade. If you leave purple shampoo overnight on the hair, it can entirely mar your hair color and give you purple hair color. But this transition is not permanent. After some days, this purple color will vanish. So, don't keep the shampoo overnight on the hair and follow the product's instructions. But if you want to bleach your hair with conditioner, you can leave it on for 10 minutes.
How long to leave the purple conditioner on dry hair?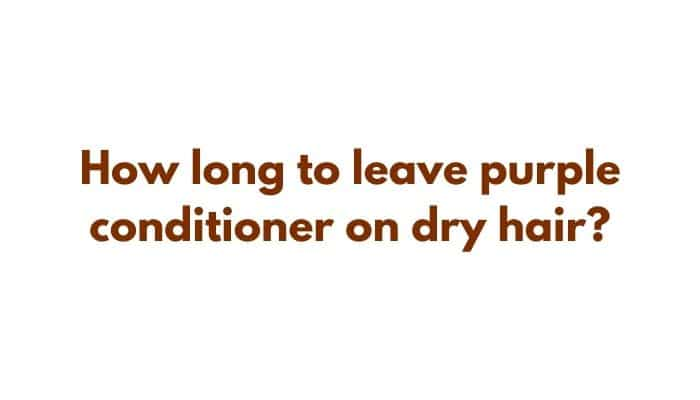 Generally, purple shampoos make hair dry. If you have dry and rough hair, you may know dry hair is more prone to hair fall and hair split. Moreover, dry hair absorbs pigment more quickly, and this absorption is not even. Therefore, the users should use the pigmented purple conditioner for a maximum of five to ten minutes based on the instruction.
In contrast, if the conditioner doesn't contain pigmentation within it, the user can leave it for a bit longer than those pigmented ones. 
Does purple conditioner work the same as purple shampoo?
Purple shampoos and purple conditioners are not the same things at all. There are several differences in their functions. Purple shampoo is more pigmented than a conditioner (if the conditioner has violet pigmentation as well). The shampoo is entirely responsible for covering up that yellowish hair.
In contrast, a purple conditioner is like a hair toner that nourishes hair. Its primary job is to moisturizethe hair. Because color-treated hair gets easily damaged in sun exposure, heat-styling, and chlorinated water, besides, some purple shampoos are so drying in nature. So, nourishing the hair is crucial for hair when you have put color on it. Otherwise, the users may face several hair problems.
Frequently Asked Questions
Does purple shampoo damage your hair?
It depends on which type of purple shampoo you are using. But some shampoo makes hair extremely dry, and others don't. In this case, if the users don't use a proper conditioner to protect the hair's moisture, the hair will gradually become damaged and fall out until the user gets bald.  But it would be beneficial for the users to look for a shampoo that won't dry out the hair. Kérastase Blond Absolu Strengthening shampoo, Amika Bust Your Brass Cool Blonde Shampoo, Joico Color Balance Purple Shampoo, and Conditioner can be a big deal in this consideration.
Is purple shampoo better than blue shampoo?
None of this is better than the other. These products are intended to be used for different purposes. While purple shampoo neutralizes the unwanted yellow tone in blonde hair color, blue shampoo prevents the orange tone.  So, if a user sees both yellow and orange tones in her hair, she can use both blue and purple shampoo with a limited amount. But if a person has recently put blonde or silver color on hair and notices brassiness, immediately shift the shampoo to a purple one.
Will purple shampoo help yellow hair?
Yes, Purple shampoo eliminates the yellow tone in hair that appears after a few days of hair dying. If you can remember the game of complementary colors for each other in your school days, you know that purple acts as a color corrector against yellow.
Does purple shampoo lighten hair?
Yes, purple shampoo lightens hair color. After a few days, color-treated hair tends to go back to its natural colour. Therefore, the users notice that the hair color that the salon gave her is fading over time, and the hair becomes darker like the previous one. Purple shampoo is used to prevent this problem.
Final verdict
None want to have faded blonde hair color. There is no doubt a purple shampoo is a life savior for the blondes out there. It prevents and lightens the brassiness of the hair. So, the user can retain the salon provided hair color for a longer time.
But the problem is most purple shampoo makes hair intensely dry, and here is the beginning of other issues. So, a purple conditioner is a must-having product. These conditioners are different from the regular ones. So, if a user uses a purple conditioner out of knowledge, she must face unwanted outcomes. Therefore, some people frequently ask various questions regarding purple conditioners. But the most common one is, "Can I leave the Purple Conditioner in My Hair overnight?"
So, I have explained all of the queries. If the readers read until this part, I bet they know what they should do. I hope you have found the article helpful.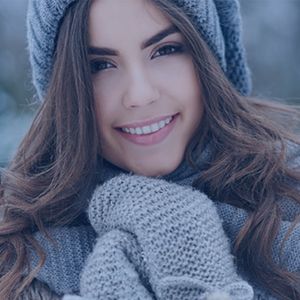 I'm Amelia. I have been working with hair care product shampoo and conditioner for 6 long years. This website is an outlet of my deep passion for hair, Shampoo and Conditioner. Basically, I'm here to guide you on shampoo and conditioner.