I'm Amelia. I have been working with hair care product shampoo and conditioner for 6 long years. This website is...Read more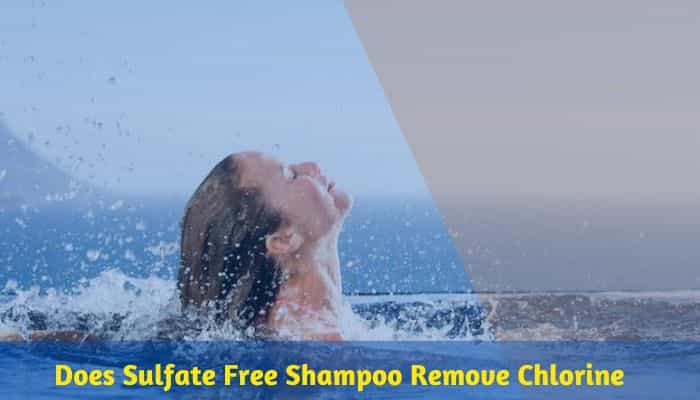 Are you a swimmer and have chlorine already damaged your hair? Even if you said yes to this, don't worry! There are many shampoos in the market which are specifically produced for swimmers. Now you may wonder, what are the basic ingredients of the swimmer shampoos? Do they contain sulfate? Does Sulfate Free Shampoo Remove Chlorine?
Swimming is indeed an awesome full-body exercise to burn out calories. However, the chlorine you will get on your hair is extremely persistent. They are notorious for stripping the natural oil from the hair, which results in a dry & brittle texture. Thankfully, there are swimmer shampoos that contain sodium thiosulfate or sodium citrate to alter the dry & damaging effects of chlorine significantly. There are also sulfate & paraben-free shampoos that can effectively remove chlorine and soften & moisturize regularly.
Do you have further queries? Just hang on with me; I promise my content will clear up all the doubts. Here I have a step-by-step guideline to dechlorinate the hair with a sulfate-free shampoo. I have also recommended the best sulfate-free chlorine removal shampoo in 2022. So, all the swimmers out there! Are you excited to get your soft & shiny hair back now?
Why Do I Require A Chlorine Removal Shampoo?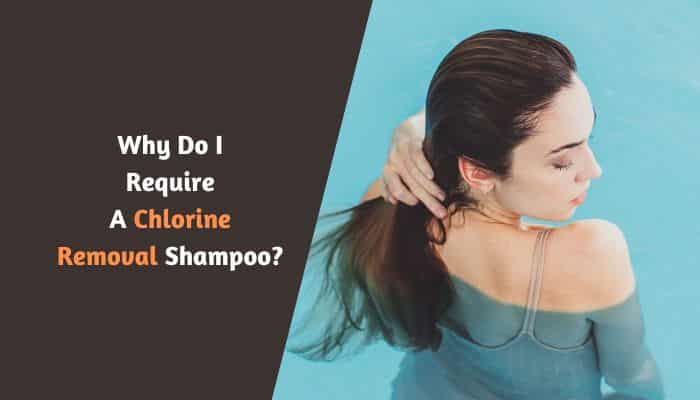 Chlorine is widely used in swimming pools to kill pathogens and prevent bacterial infections & other diseases. So, swimming pools will nearly become a breeding ground of germs without intensive chlorine treatment.
However, if you knew their harmful effects on your hair & skin beforehand, you would definitely think twice before diving into the pool.
Chlorine makes your hair rough, dry & unattractive by stripping the natural oils.
It can stunt hair growth, causing split ends.
It can significantly alter your hair color by causing multiple chemical reactions.
There are many swimmers out there who frequently complain about green hair. It's basically due to the excessive copper absorption that is oxidized with chlorine.
Now, what will you do? Obviously, the adverse effects of chlorine can't stop an energetic athlete like you. Instead, you will require a chlorine removal shampoo & reverse all these consequences at once!
What Kind Of Shampoo Removes Chlorine?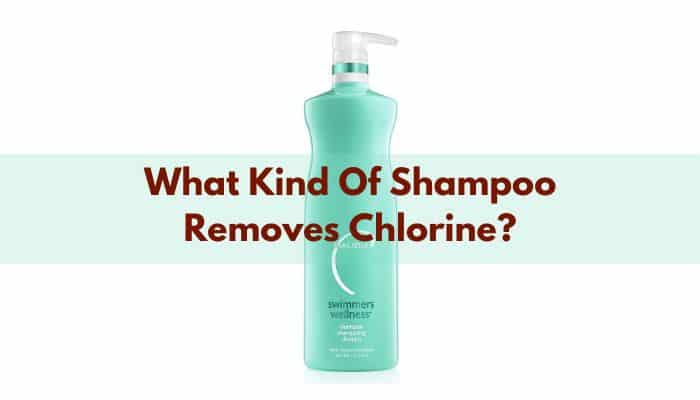 Every swimmer needs to be extra careful to save their hair from the adverse effects of chlorine. Just rinse the hair with fresh water beforehand & ensure minimum chlorine absorption. However, the best solution is to cleanse the hair with shampoo as a post-pool shield.
Clarifying Shampoo:
Some clarifying shampoos come with a special formula to deeply cleanse buildups, dirt, and styling product residues. However, it can't effectively remove mineral deposits. Instead, it smoothes & softens the hair through deep hydration.
Chelating Shampoo:
In terms of reducing hard mineral buildups, Chelating shampoos are indeed the best. However, it can immensely dry out the hair. So, instead of regular shampooing, use chelating shampoos sparingly.
Hydrating Shampoo:
Hydrating shampoos come with special formula for cleansing as well as lubrication. Due to superior moisturization, it will result in minimum hair dryness & brittles. It protects the natural moisture of the scalp and reduces tangles & split ends as well. So, many peeps prefer to use hydrating shampoos regularly for chlorine removal & deep hydration.
What ingredient in shampoo removes chlorine?
Most swimmer shampoos out there are clarifying shampoos designed for removing styling products, hair gels, salt, and chlorine deposits from hair. It can also give some relief from itchiness caused by chlorine. It generally contains a reducing agent, sodium thiosulfate, which combines chlorine with hypochlorous acid and saves the hair from being rough and dry.
According to my most recent study, vitamin C, citric acid, ascorbic acid, and sodium ascorbate had a high potential for neutralizing chlorine. Moreover, they are not hazardous like sulfate. So, even if I have a sensitive scalp, I can go for shampoos containing citric or ascorbic acid for chlorine removal without any hesitation.
Will sulfate-free shampoos get rid of chlorine after swimming?
Yes, why not? As I have mentioned earlier, other than sulfate, citric and ascorbic acid has a high potential to neutralize chlorine. According to the top professional athletes/ swimmers, citrus shampoos can safely remove sweat, minerals, and salts like chlorine while hydrating & smoothing the hair. Sunflower oil, jojoba oil & aloe is also quite moisturizing and hydrating. You will definitely love the refreshing citrus fragrance.
How can I use a sulfate-free shampoo to remove chlorine?
If you are up for intensive cleaning, you can go for two rounds of shampooing.
Don't use a full palm of shampoo every time. Only a quarter sizes or less will be sufficient. 
You need your hair to hold some water for around 30 to 45 seconds to begin its job. If your hair is oily, you won't get much suds.
In the second round, you will get the most awaited suds as most of the oils are already cleaned up in round one.
Hang on there for several minutes, and then just rinse it off. Lastly, go for a hydrating conditioner to get shiny, hydrated & soft hair instantly.
What is the best brand of sulfate-free shampoo for removing chlorine?
Among different brands and in my  point of view, Malibu C swimmers wellness shampoo is one of the best sulfate-free shampoos for chlorine removal out there. After removing hard water, minerals and chlorine, it can ensure intensive nourishment by vitamin B5, brassy tresses & flax protein. You can use this shampoo from head to toe on a regular basis as it's formulated with all the wellness of vegan.
What Do Users Like & Dislike?
The top-class swimmers love its mild, harsh cleansing agent & sulfate-free formula to clean up impurities & ard minerals. Even though it's a bit expensive, it's really worth every penny.
Frequently Asked Question
Can I keep chlorine out of my hair by wearing a swimming cap?
Wearing a swimming cap of latex or silicone might help if you have short hair. It can't totally save the hair from being wet, but it can reduce chlorine absorption significantly.
Can oiling or shampooing prior to swimming save your hair from the harmful effects of chlorine deposition?
Chlorine itself is not as dangerous as its derivatives, e.g., chloramines. It might help if your condition, oil, or shampoo the hair before swimming. However, I prefer not to oil as it gives off a stinky vibe. Your acquaintances might not like it as well. Just rinse it before diving into the pool, and it will be helpful enough.
Final Words
As a swimmer, you might have suffered a lot due to intensive chlorine absorption. I believe your scalp is also pretty sensitive, and that's why you were concerned about 'Does Sulfate Free Shampoo Remove Chlorine?' Again, few people are believe in that case, some third party shampoo remove hair dye and other things from our hair. Just even a decade ago, sulfate was the only effective option to get rid of chlorine residues. Thankfully, after intensive research on shampoos and conditioners, scientists have come up with citrate shampoos for sensitive individuals to eliminate hard minerals/chlorine while moisturizing the hair. Thus, you don't need to worry about rough & dry hair anymore. So, get the best swimmer shampoo and dive into the pool confidently!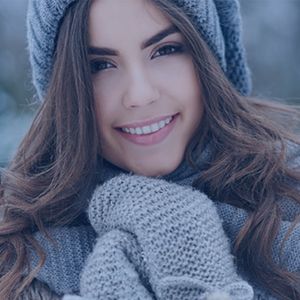 I'm Amelia. I have been working with hair care product shampoo and conditioner for 6 long years. This website is an outlet of my deep passion for hair, Shampoo and Conditioner. Basically, I'm here to guide you on shampoo and conditioner.