I'm Amelia. I have been working with hair care product shampoo and conditioner for 6 long years. This website is...Read more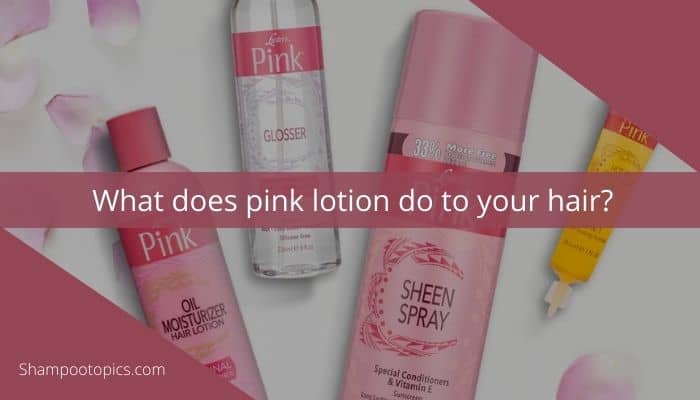 Hair is the best accessory for a girl to have a different look. If you have naturally shiny hair, then you are a blessed soul. But for those, who have curly and dry hair like mine, the pink lotion will solve all your problems.
What does pink lotion do to your hair? Pink lotion came to rescue when your hair was at its worst. Applying it simply, pink lotion moisturizes your hair, protects it from damage, and revives your hair. 
Today, I'm going to tell you all about pink lotion- the magical product that saved my hair so that you lovelies can use it to get beautiful lustrous hair.
Comparison Table of best pink lotion
What Does Hair Lotion Do To Your Hair?
Hair lotion does wonders for your hair. It works just like body lotion. It is undoubtedly one of the best hair products that everyone should have in their vanity.
Firstly, hair lotion traps the moisture in your hair and prevents drying. As I have curly hair, hair lotion was always a staple hair product for me. Before using hair lotion, I suffered from hair breakage. But when I started using hair lotion, my hair became wholly transformed.
Hair lotion protects your hair from harmful substances that might damage your hair. As hair lotions simultaneously protect and condition your hair, you will benefit from using them. If you want to avoid damaged and frizzy hair, hair lotion will be perfect for you.
What Does Pink Lotion Do To Your Hair?
The pink lotion is a diverse product that has many benefits. Here are some beautiful things that pink lotion can do for your hair.
Moisturizes Hair
The pink lotion is a hair product that will transform your dry and brittle hair by moisturizing it. This product has been around for a long time. Since then, hundreds of women have relied on this product to get tangle-free healthy hair. 
Every woman wants a product that will leave their hair feeling shiny. Shampoos can be very harsh as they strip off the natural oils from hair. And no amount of conditioner will restore your hair's natural oils. This is where pink lotion comes in. The pink lotion works by moisturizing each strand of hair and every single curl so that your hair does not feel dry at all.
Works On Every Hair Texture
I often see girls contemplating whether or not pink lotion will work on their hair texture. I have good news because pink lotion works on every hair texture and hair color. 
Many people shy away from hair lotion. Because they think hair lotion will make their hair greasy and oily. The ingredients of pink lotion are designed not to make your hair feel greasy at all.
For straight or wavy hair
If you have curly hair, then pink lotion will be your holy grail. Usually, people with curly hair have to go through more trouble to find a product that will suit them. Pink lotion gently pulls down the curls, making them bouncy.
Soothes Dry Scalp
Apart from moisturizing your hair strands, the ingredients of pink lotion help combat dry scalp and itchiness. You will not believe the number of hair products I went through to reduce my dandruff. None of them worked until pink lotion. 
I did have to wait for a few days to see a noteworthy result, it worked nonetheless. If you are very worried about the health of your scalp, pink lotion is there to help. 
Makes Styling Easy
Pink lotion makes styling your hair very easy. You can use pink lotion for any hairstyle, starting from ponytails, braids, or weave styles. I have used the pink lotion for a long time and many adventurous hairstyles, and it did not fail me once.
Pink lotion makes my hair very smooth and soft. So, I can easily comb through my hair without wanting to hurl everyone across the room. People with curls will know how difficult it is to brush their hair first thing in the morning. But take a dollop of pink lotion. All your troubles will go away.
Is Pink Lotion Safe?
Safety should be the first thing that you should think about before you purchase any products. I know the question that is circling your head. 
Is pink lotion safe for my hair? The answer is yes. The pink lotion is entirely safe for your hair. But you do not have to heed to my words for it. You see the ingredients just like I did. Then decide if it is safe or not.
Pink lotion does not contain any harmful or toxic chemicals. I have used this product for years and fortunately. I did not have any kind of serious skin problems.  However, it is always good to do a patch test before you start using any product.
Put a small amount of pink lotion on your arm to do a patch test and see what happens. If nothing bad happens, you can use a small dollop on a small part of your hair.
What Is Pink Lotion Made Up Of?
The ingredients of pink lotion are the things that make pink lotion an amazing product. The pink lotion is formulated in such a way that it works to put moisture into your hair. It will help  make your dull hair into something full of luster and shine.
Here is a list of all the things that make up pink lotion:
Aqua
Aqua or water is the main ingredient in every hair product. It acts as a solvent for all the other ingredients. Pink hair lotion contains deionized water. Deionized water helps to dissolve all the other ingredients and acts as a medium.
Lanolin
Are you wondering about the main ingredient that makes pink hair lotion moisturizing? This is lanolin. Lanolin is extracted from the sebaceous glands of sheep, and it has revolutionized hair care products.
Lanolin works by trapping water onto your skin. It stops the water from evaporating. As well as it slows down the rate at which water molecules leave the skin. It, in turn, hydrates your scalp and moisturizes the hair.
A critical feature of every hair product is not to mess with your hair's pH. Lanolin is a natural ingredient and does not affect the pH of your scalp at all.  Apart from that, lanolin also has anti-inflammatory properties, which can heal your scalp from any inflammation.
Beeswax
Beeswax or Cera alba is a staple ingredient in every cosmetic product. It is made by bees and contains Vitamin A, which is fantastic for your hair. Beeswax is the ingredient that both moisturizes and defends your hair against frizz.
If you want a styling product or try products that will hold your hair into place, the beeswax will be perfect for you.
Panthenol
Panthenol is a moisturizing substance derived from vitamin B5. Plants and animals are popular sources of panthenol. Every hair lotion and hair mask will contain panthenol. 
These ingredients improve the appearance and feel of your skin and hair naturally. Your hair may appear shinier and fuller if you use panthenol-containing products. 
Tocopherol
Tocopherol or Vitamin E is a magic ingredient for your hair. It stops hair loss, increases blood circulation to the scalp, and simultaneously increases hair growth.
When hair is damaged, it might appear lifeless and frizzy.  Hair loses its shine when the protective fat layer covering the hair is lost. A vitamin E based oil will restore the lost shine and help to fix the fat layer.
How To Use Pink Lotion?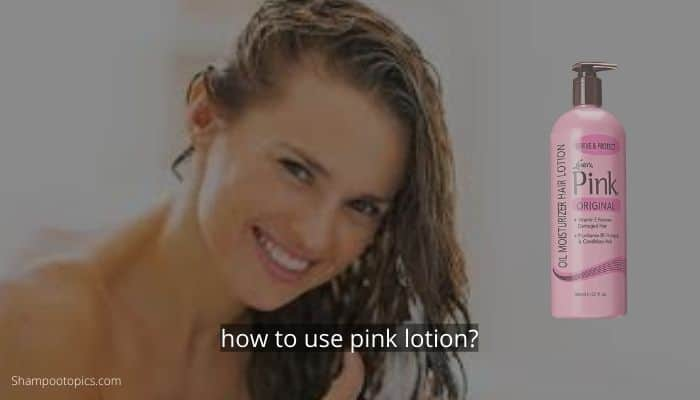 When you decide to purchase pink lotions, then comes the part about how to use pink lotion.
The pink lotion is straightforward to use. Most of the time, the bottle or the packaging will have some sort of instructions. 
Start by shaking the bottle before you use it. Do not miss this step because shaking the bottle will mix the ingredients. The pink lotion contains deionized water.  And you should mix it properly so that the water will mix properly. I often applied pink lotion to my hair in a rush and did not shake it. But you should shake before using.  One of the most important observations was that the texture was different and it was runnier.
Next, you will take a pea-sized amount on the palm of your hand. Rub your hands together, and then put the product on your hair. You can put pink lotion on both dry and wet hair. Refrain from putting the product on your scalp daily. Make sure that you cover all of your hair with the product and gently comb it through the hair.
How Long Should I Leave The Pink Lotion On My Hair?
Pink hair lotion works like a moisturizer for your hair. Once you apply it, the lotion will nourish hair and make it very smooth and manageable. However, if you do not keep this product for the correct time, you will not see the results.
Usually, I apply pink lotion to my slightly wet hair. Then I leave it on for around 10-15 minutes. Once I see my curls dropping down, I wash my hair with shampoo and apply conditioner.
You can leave the pink lotion on your hair for as long as you want. If you are in a rush, do what I do. Just leave pink hair lotion on my dry hair for 10 minutes, and then wash it out. Or, if you have more time and have a beauty session or an interview, just leave it overnight. However, you have to wash your hair properly in the morning. Otherwise, your hair will feel dry, and your scalp might become clogged.
Does Pink Lotion Moisturize Hair?
Yes, pink lotion moisturizes hair. But the central concept behind the product is that it will moisturize dry hair and make it healthier.
I have dry skin, so I suffer from a dry scalp. One of the worst things I had to fight against was dandruff. I have put on countless moisturizing hair oil and masks, but they only cured my dandruff, leaving my hair dry like before. That is when something clicked in my head. I understood that my hair needed some extra help from outside. 
The pink lotion contains ingredients like provitamin B5, which locks in the moisture from the outside. One of the major ingredients in pink oil moisturizers is mineral oil. What mineral oil does is sit on top of your hair and lock in all the moisture.
Many beauty gurus will talk you into buying many products by saying they will cure all your hair problems. But the most important thing that you need to keep in mind is that if you want healthy and shiny hair, you will have to work from the inside. What does this mean? That means drinking plenty of water along with eating a balanced diet will make your hair a hundred times healthier.​​  
What Is Pink Hair Lotion Good For?
Pink Hair lotion is a magical product that has many benefits. It will cure almost every problem you have and make it shinier and glossier than ever before.
Boosts Hair Growth
Because it appears to be so simple, many individuals have questioned the utility of hair lotion. Hair lotion, on the other hand, may contain a variety of chemicals that are genuinely healthy to your hair. So, yes, hair lotion can help you grow your hair! 
Proteins, which are essential for healthy, strong hair, can be found in many different types of hair treatments. Other ingredients in hair lotions help feed your scalp and give you a thicker head of hair. 
People use this product for various reasons: to nourish the scalp and prevent dandruff produced by dry skin.
Renovate Dehydrated Hair
You may have dehydrated hair on both the inside and outside of your head. It doesn't appear to be well-moisturized. As a result, both the inside and exterior layers of the hair are dry. The threads are also strawy. 
You can use the pink hair lotion in that situation because it will improve the appearance of your hair for an extended period. As a result, the ultra-frizzy appearance will be reduced to some extent.
As A Styling Product
You can use it to style your hair, and it can work for you in some ways. 
You can use pink lotion instead of hair gel, for example. The hair will stay in place because of the hefty mixture and stickiness. If stickiness is not a big problem or you can deal with it, you will become a fan of this product. For example, you hold your hair in place when completing a hairstyle. 
Yes, since pink lotion contains beeswax. That's incredibly sticky and hefty. You could be unsure whether it will work or not.
What is the best pink lotion?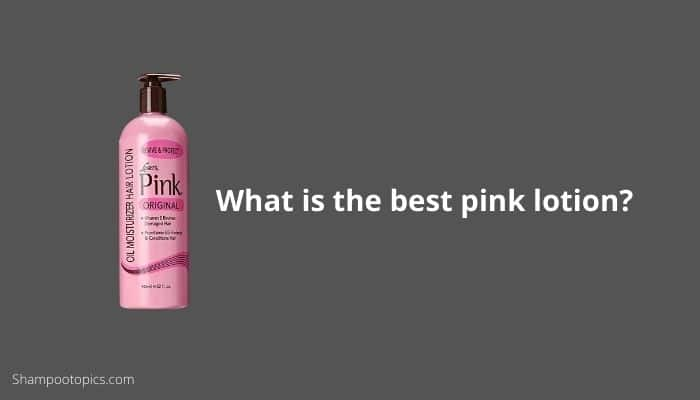 I have spent a lot of time trying out products because I wanted to find the best pink lotion. After using many products, here are the two products that I have loved.
The Luster's Pink Oil Moisturizer Hair Lotion needs no introduction. It is one of the oldest pink hair lotions out there. It has stood the test against time to become one of the most famous pink hair lotions. 
The Lotion is created with a mixture of vitamins such as  Pro-vitamin B5 and Vitamin E to help dry, and damaged hair. I have used it since my teenage days. And whenever my hair got dry or lifeless, it came back to life. 
This deep-penetration moisturizer nourished and repaired my weak and damaged hair, leaving it silky, smooth, and manageable. This product also protects my hair from heat damage. So I do not have to use different kinds of products in my hair before curling my hair or straightening it. 
My split ends have disappeared with regular trimmings and the Luster's pink oil hair lotion, and now I love my hair more than ever.
Pros
Fantastic for any hair type and hair color
Prevents split ends 
You can use it on heat damaged hair or colored damaged hair
Used for all types of hairstyles
Moisturizes and nourishes hair by retaining moisture
 Cons
The Victoria's Secret Pink Coco Lotion Coconut Oil Hydrating Body Lotion is undoubtedly one of the best body lotions that I have tried. 
Infused with aloe vera and coconut oil, this lotion leaves my skin feeling supple and soft. Coconut oil is the moisturizing agent that nourishes the skin, and aloe vera soothes irritated skin as it has antibacterial properties.
The texture of the lotion is absolute heaven. As it is whipped, it is very lightweight and not greasy. I have used many lotions that make my skin feel greasy, but not this one. I love putting this lotion on my body. And it smells delicious as well. The coconut oil gives it a tropical smell that makes my mouth water. It is unbelievable, the number of compliments I have gotten when wearing this lotion.
Pros
Moisturizes skin deeply
Lovely fragrance
Lightweight and whipped texture
Leaving soft and glowing skin
Cons
What other hair products can be used with pink lotion?
As much as I love the pink hair lotion, I also use more to maintain good hair.  There are some other hair products that you can use with it to get maximum benefit. So here are some tips for you to try out if you want glowing, healthy hair.
Hair oils
Oils such as coconut oil and argan oil are fantastic for your hair. If you have dry and flaky scalp, they will hydrate your scalp and add luster to your hair.
Hair oils also increase hair growth. Heat the oil just a little and massage it onto your scalp for a profound conditioning effect. Keep the oil on your hair for an hour or two, and then shampoo your hair. Immediately, you will notice a big difference in the way your hair bounces and shines.
Hair masks
There are a lot of hair masks in the market, creating hype right now. You have to choose a suitable hair mask based on your hair type. Hair masks mostly contain natural ingredients that your hair will love.
Get yourself a moisturizing mask, if you have dry or frizzy hair. Hair masks that have bananas are great for dry hair. On the other hand, hydrating masks will work great for rough hair. 
Hair Serums
They're great since they're light, non-greasy, and tackle specific hair issues. So, if you're looking for a way to combat dryness or damage, hair serums are the way to go. 
Your hair will reciprocate your affection because you're going to notice some changes in your hair. So choose the one that promises to keep your hair moisturized.
Can Pink Lotion Give You Waves?
Do you want waves in your hair? If you do, then pink lotion will be excellent for you. Having waves on your hair is not something which is very easy. But pink lotion can help you out if you want to get waves. 
Here are a few steps that you can follow to get waves on your hair using pink lotion:
Take the pink hair lotion and then put it in your hair for at least half an hour.
Shampoo your hair with lukewarm water as it will open up the pores. Please make sure your scalp is clean and does not have any dandruff.
Start brushing your hair in a wavelike motion. Remember, brushing is the most crucial part if you want to get waves.
Once the brushing is done, take some pink lotion and gently rub it all over your hair.
Finish off by putting on a durag on your hair as this will keep the waves in place
Frequently Asked Question
Does vitamin C prevent hair loss?
Vitamin C not only strengthens your entire immune system but also fights free radicals that stifle hair development. Eating a Vitamin C rich diet will reduce hair loss as it will make your scalp healthier.
Can you use pink lotion on relaxed hair?
You should refrain from using pink lotion on relaxed hair. As relaxed hair is already damaged from many harmful chemicals, pink lotion can dry it out even more.
Can babies use pink lotion?
No, babies should not use pink lotion. The pink lotion contains many ingredients that may be harsh on babies' sensitive skin. Babies have very fragile hair. So using pink lotion on babies can irritate their skin or cause allergic reactions.
Final Verdict
Pink lotions are timeless hair products that have been around for quite some time. They nourish hair, replenish moisture, and are relatively inexpensive have increased their popularity over the years.
If you have wondered what does pink lotion do to your hair, it does beautiful things. I have used pink hair lotion for years, and there is no turning back as this product has made my curls bouncier than ever before.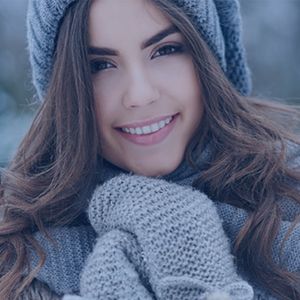 I'm Amelia. I have been working with hair care product shampoo and conditioner for 6 long years. This website is an outlet of my deep passion for hair, Shampoo and Conditioner. Basically, I'm here to guide you on shampoo and conditioner.