I'm Amelia. I have been working with hair care product shampoo and conditioner for 6 long years. This website is an outlet of my deep...Read more
"High-porosity hair" is the ability of hair cuticles to absorb moisture, dust & dirt, and even scents very strongly. It's not a very pleasant quality to have. Why do we have it in the first place? Is it an acquired quality or do we inherit it?
We will come back later to the "why & how" part.
First, let's list the best shampoos with their benefits & drawbacks.
| | | |
| --- | --- | --- |
| Image | Product | Features |
| | Giovanni Eco Chic SMOOTH AS SILK™ DEEP MOISTURE SHAMPOO | It is aninnovative formula that can prevent or stop developing split ends and breakage, making your limp curls healthy hair.You can use it daily.Can be used for all types of hair, but especially soft with colored hair. |
| | LivSo Moisturizing Shampoo | It contains Xylitol and Coconut oil that inhibits scalp flora, fighting irritation and flaking. Glycolic Acid cleanses the scalp pores. All combined bring the effect of shiny and smooth hair.The shampoo was developed for dry & brittle hair but can be safely used for all types. |
| | (Malin + Goetz) Peppermint Shampoo | Natural peppermint extract and amino acids while effectively cleansing, don't dry out curls or make them susceptible to knot formation. It is residue-free.It was designed for all hair and scalp types. You can use it every day thanks to its softly wrapping foaming formula. |
| | BLACK JAMAICAN CASTOR OIL STRENGTHEN & RESTORE SHAMPOO | This product has a nourishing and repairing formula with Castor Black oil and Organic Shea butter.It's suitable for daily use. It's also designed for damaged and chemically abused hair (but you can use it for the "wave effect" of coily hair too) |
| | SHEAMOISTURE Manuka Honey & Yogurt Hydrate + Repair Shampoo | The formula of this shampoo instantly infuses suffering hair with so desirable moisture. It contains Mafura & Baobab oils for strengthening.It's developed for extremely dry and brittle, textured hair |
| | Don't Despair, Repair! Super Moisture Shampoo for Damaged Hair | It contains antioxidant-algae extract (protection from damage), and moisture components – panthenol, and biotin to enhance the structure of the hair shaft.The product is intended for damaged hair |
| | Tea Tree Lavender Mint Moisturizing Shampoo, Hydrates + Soothes | It contains moisture-rich components and amino acids which are strengthening tresses, leaving them shiny and manageable. It has a soothing scent.The shampoo is meant for Coarse and Dry Hair. You can use it daily |
Giovanni Eco Chic SMOOTH AS SILK™ DEEP MOISTURE SHAMPOO
Pros
Apart from serving well its purpose – cleansing, the formula does a good job of soothing dry and chemically abused hair, leaving it smooth and nourished. It contains antioxidants – Apple & Aloe extracts – that protect your hair from further damage.
It's a vegan product and also free of phthalate, paraben, sulfate, cruelty, and dye.
Apple Cyder Vinegar regulates scalp pH level and softens tress promoting their growth. Curls become radiant.
It is not expensive.
The package is very convenient.
Cons
Some customers find the scent of this shampoo too strong. Also, there is alcohol in the ingredient list.
LivSo Moisturizing Shampoo
Pros
This shampoo includes moisturizing components, such as coconut oil and glycerin, that soothe dry scalp and ease inflammation.
It also contains xylitol which removes staph bacteria from the skin. So, this shampoo could potentially help reduce infections or inflammation caused by scalp psoriasis or eczema.
Users praise this product, mentioning it works well for both dry scalp and brittle hair without weighing their hair down.
This shampoo is sulfate-free.
Cons
If you are using this shampoo, please be aware that hair becomes more susceptible to sun radiation.
Some customers find the product not very affordable.
(Malin + Goetz) Peppermint Shampoo
Pros
Although it was developed for all types of hair, this shampoo can be safely used and for color-treated & processed hair, because of the hydrating agents like Glycerin and olive oil which moisturize the scalp.
Organic Shea butter protects hair from losing moisture.
The shampoo is free of silicone, phthalate, paraben, artificial colors, and fragrance, also, it's cruelty-free.
Cons
The product is expensive.
You shouldn't expect too much moisture if you have very dry hair.
JAMAICAN BLACK CASTOR OIL STRENGTHEN & RESTORE SHAMPOO
Pros
Perfectly for those who often "violate" their natural hair or have already damaged hair by regular perm, color, heat styling, and straightening. Organic Shea butter and Jamaican castor black oil nourish hair. Hair is breaking less and showing less shedding.
The formula has no Sulfates, no parabens, no phthalates, no paraffin, no gluten, no propylene glycol, no mineral oil, no synthetic fragrance, no synthetic color, no PABA, or DEA.
It's cruelty-free.
Cons
You must shake well the bottle before the use as ingredients are not well mixed.
SHEAMOISTURE Manuka Honey & Yogurt Hydrate + Repair Shampoo
Pros
Despite its Sulfate-free status, this product gives a luxurious lather that gently cleanses hair's follicles while infusing your hair with intensive moisture. Especially so much needed for hair with high porosity. Plus, reconstructive proteins also strengthen such hair.
On top of that, Manuka Honey and Yogurt restore hair's brilliant look by strengthening strands and preserving hair from hot styling. Manuka Honey also provides moisture retention. It leaves strands fully restored. All that goes a long way to moisturize high-porosity hair.
It would be a great choice: good clarifying shampoo acting like a deep conditioner.
The formula is Phthalate-Free, Mineral Oil-Free, Sulfate-Free, and Paraben-Free.
It's cruelty-free.
Cons
Some may find the bottle a bit small.
To stop frizz you do need a conditioner or other tool.
Don't Despair, Repair! Super Moisture Shampoo for Damaged Hair
Pros
This product is 95% naturally driven. The shampoo's ingredients are rose hip oil, shea butter, and essential fatty acids. Shea Butter, as always, moisturizes, softens, and hydrates hair.
The formula fights Dryness, Frizz, Damage, Split Ends, and Breakage. Also, it's very tender with sensitive skin scalp, and hair porosity.
This product is Gluten-free, silicone-free, has no artificial dyes, no DEA, it's paraben-free, sulfate-free, contains no phthalates, and on top of that it's cruelty-free and vegan.
Cons
For some people, the floral scent is too much strong.
The shampoo has a too-watery texture.
Tea Tree Lavender Mint Moisturizing Shampoo, Hydrates + Soothes
Pros
The formula is careful with color-treated hair. It contains Tea Tree Oil to strengthen hair, Mint to cool the scalp and give a nice aroma, Lavender for nourishing and shine, and amino acids to work along with the oil and Lavender to strengthen hair and provide its smoothness.
Calming lavender, mint, and tea tree soothe mind and spirit. The main components are AHA, Jojoba, and Rosemary.
The shampoo is Paraben-free, Gluten-free, and also Vegan.
Cons
Reviewers are raging about the effectiveness of this shampoo, which is why I found no drawbacks.
Reasons why hair becomes prone to porosity
The most damaging effect has daily hair drying, especially by hot air – it opens up hair scales and promotes moisture loss.
If you often do hot styling, especially without thermal protection, that also ruins the hair structure.
Frequent dyeing or blonding, perming (i.e. chemically processed hair) – any of those procedures contributes to hair cuticle opening (after all, without this the dye pigment won't penetrate inside). If you are dyeing too often your scales get used to being "opened up" and the curl structure is being damaged.
Another reason is hard water. Water with lots of minerals and salts also leads to a rise in the stratum corneum scales. Please use water filters for your healthy hair.
And not the least contributing factor is our sun. Sun acts almost like a hot styling – if you sunbathe without a protective cream and headgear.
It can be unsuitable care. The minimum that you need to provide your high porosity is to comb and wash your hair regularly with suitable products.
And the last one is you can inherit such hair quality.
Although you may have high-porosity natural hair – it means that your hair is just curly "by nature", nevertheless it does need good care too as it absorbs the same way.
Hence to preserve the hair healthy becomes a harder task.
Unlike high-porosity hair, low-porosity hair can badly absorb anything as its cuticles lay flat "no matter what".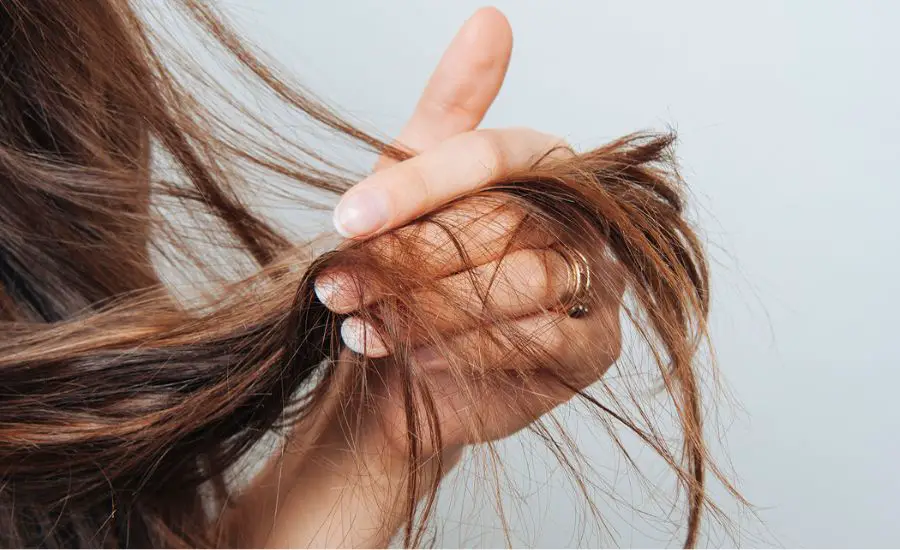 What should be the care of high porosity hair?
How to wash, comb, dye, and dry your very special hair? Delving into the intricacies of porous hair care.
Cleansing correctly
Washing is important in caring for such hair. After all, they absorb a lot of dirt and dust, becoming dull and yellowish because of it. To properly clean your hair one shampoo use is not enough. You need to add a scrub. But do not do it at the same time. Once a week use Gommage to cleanse instead of shampoo.
Everyday hair requires a delicate cleansing by a gentle shampoo because by its nature it's fragile hair, prone to hair breakage. A sulfate-free shampoo will come in handy.
Refrain from dyeing
You have to do it at least for a while. Let the hair cuticle get used to a half-closed state. That would give some rest from the troubles the dyeing gives uneven pigment distribution, dryness, and "unruly" curls. If you cannot avoid it – use hair dye without ammonia.
Moisturize
Moisturizing masks, balms, and oils will help to fight the main issue of this hair – dryness. These products saturate the hair strands' porous structure with moisture and prevent its evaporation, besides making cuticle's scales fit tightly against each other, so porosity hair looks smooth and well-groomed.
Don't use heat-styling tools without a protective spray
Ideally to abandon these style instruments completely. If cannot leave this idea alone, you should use a thermal protective agent. Modern treatments with a thermal protective effect are striking in variety.
Sunbath properly
Do that in a hat, with a protective and moisturizing agent (the easiest option is coconut oil). Too much sun is bad for your hair, just like it is for your skin. Professional protection from the sun provides products enriched with UV filters.
Do scalp massage
It is not only pleasant but also useful. Massage helps to open up the pores of the skin and moisturizes the scalp, and along with it – the curls. After all, this type of hair is always dry. Stylists advise self-massage during each hair wash. If your cleanser is gentle and comfortable enough, you'll have a real spa experience.
Try to use a clay mask (or any with a similar effect) once a week instead of your shampoo. The mask removes impurities and at the same time restores the natural hair pH (pH balance is an important condition for a snug fit of the cuticle scales to each other). 
You can be sure that as a result of the massage, the strands will not dry out, they will receive optimal nutrition, and by the way, – your hair will get the root volume as a nice bonus!
Use a soft comb
Porous hair is dry, brittle, and easily tangled. Therefore, you should comb them only very carefully and cautiously – with a soft massage brush. Start with the tips, gradually going up to the scalp, the movements should be smooth and sliding. Don't pull them forcefully.
Before combing, to prevent knot formation, apply any unraveling spray.
Go to bed with silk pillows
It's highly advisable because silk fibers are smooth and don't absorb any precious liquid. Besides, it's incredibly pleasant.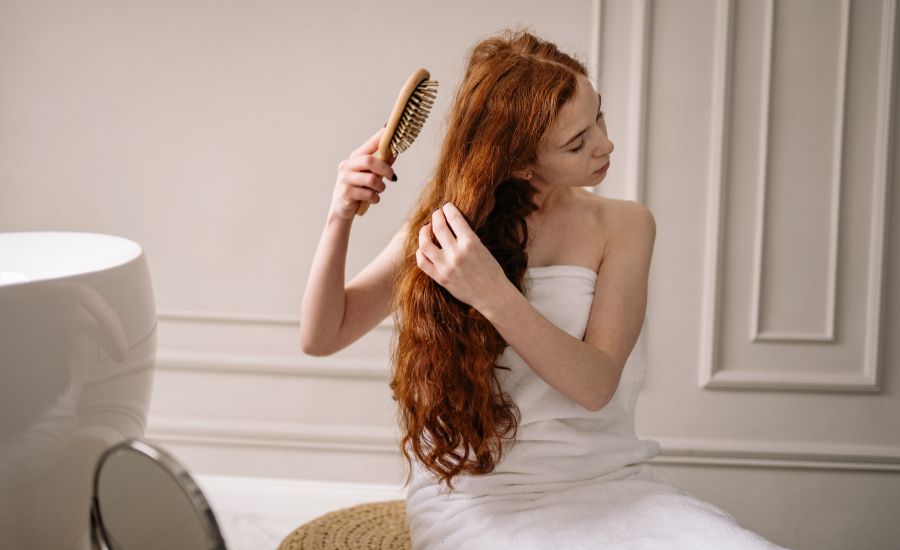 The best professional products for the care and styling of porous hair
Here is a review of professional products for high-porosity hair types. Highly porous hair is not the final verdict.
Masks
If in the case of dry/normal hair (low porosity hair), it's enough to use a mask once or twice a week, porous hair requires more intensive care. A nourishing mask should be applied along with every washing. That would induce hair growth. These are the best type of products to treat high porosity hair.
When choosing a product, look for moisturizing & nourishing plant components among the following ingredients: honey, camellias, Buriti oils, Moluccan tree seed oil, aloe barbadensis leaf juice, aloe vera, etc.
Oils
The task of this product is to protect highly porous hair from mechanical stress, give them smoothness and reduce the fluffiness that is often a characteristic of high-porosity hair.
It's a good sign if a product has a light "dry" structure and several essential oils in the composition like argan & avocado oil, marula oil, camelia, and corn grains oils. You can apply it to your porosity hair before styling: smoothness and pleasant aroma will stay with you.
There are some exotic natural oils, for instance – Amazonian Murumuru seed oil.
Hair conditioner
If you choose the right conditioner you can cope with even the unruliest hair. While choosing the product pay attention to light silicones: they provide porosity hair with docility.
For high-porosity hair deep moisturizing components are also important. For example, Aqualopolis is a component with hydrophobic and hydrophilic properties that can retain moisture inside the hair. Another one is aloe leaf juice.
Also, pay attention to deep conditioners with liquid protein and leave-in conditioners.
Shampoo
For high-porosity hair, it's important to conduct a deep cleansing, moisturize, and protect against brittle hair. The hair professionals advise not to have just one product, but three for high porosity hair. This is not obligatory for natural hair.
Another point is to find a shampoo with Sodium Lauroyl Sarcosinate – a co-surfactant very desirable as it creates a lather that carefully removes dirt & dust while leaving the scalp and hair fibers hydrated.
Scrub
After a day a huge amount of dirt and dust accumulates on porosity hair, so professional hair scrub is a must-have. While choosing a product you should pay attention to nourishing components useful for porosity hair, like argan oils or vitamin A.
You can use a scrub once or twice a week.
You apply it with gentle massaging movements and afterward, wash it off with warm water.
For oily scalp, you can use scrubs with sea salt, vitamin B5, and salicylic acid. For sensitive ones – try jojoba seeds.
Serum
Light serum is an indispensable tool for porosity hair. It smooths its structure (hair strand), has a beneficial effect on the hair shaft, and greatly facilitates your styling process. The most effective serums contain substances that nourish and restore the porosity hair shaft from the inside.
By the way, if the weather forecast says that you should expect high humidity – apply the correct tool that prevents fluffing.
Serums also fight against hair-splitting – a typical problem of porosity hair.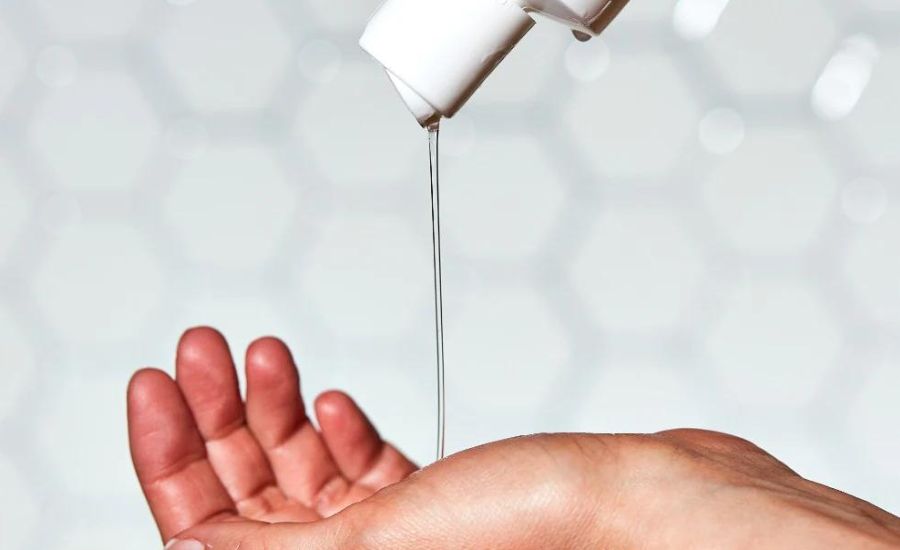 Salon treatments for high-porosity hair
Is it possible to cure such hair type at a beauty salon? Here are the most five effective salon procedures.
Straightening
Keratin straightening is the first procedure that comes to mind when we speak about professional care in beauty salons. It's recommended for severely damaged hair (chemically treated hair, high hair loss, hair loses definition quickly, high porosity strands, etc).
The curing action is the sealing of the cuticle scales with keratin, the most related substance for hair (keratin is 90% of hair's ingredient).
In case of serious damage, it is better to choose natural analogs of the procedure: unlike Brazilian keratin straightening, they do not contain formaldehyde and have a beneficial effect on the health of curls. The effect lasts about 3 weeks.
Lamination
The protective film that covers porosity hair during the procedure, creates a barrier between the hair and the external environment. As a result, dirt and dust "stick" to it much less. And the cuticle doesn't look "broken". The most beneficial effect for our high porosity hair has a bio-lamination procedure based on plant components. The effect lasts a month & half.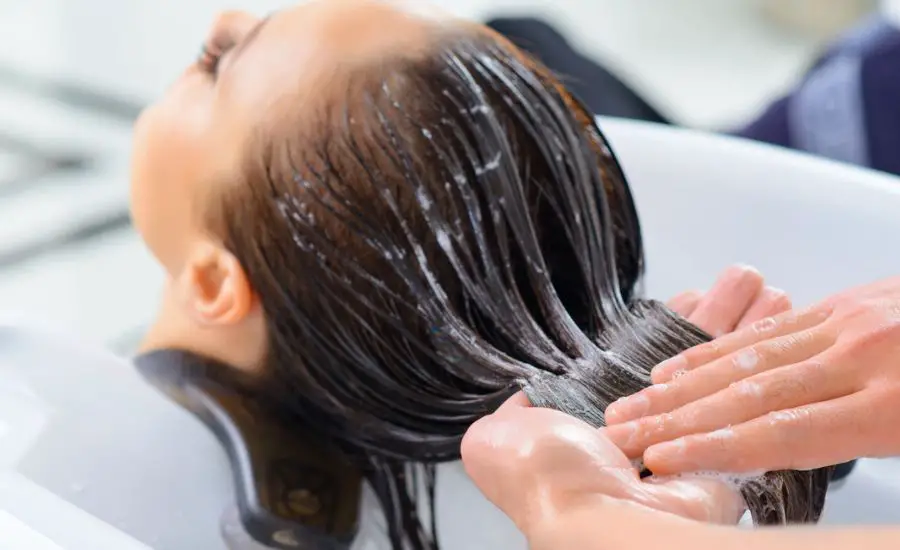 Styling secrets for high porosity hair
High porosity hair is naughty, but competent haircuts and styling can solve the problem! TOP-5 main life hacks.
Choose styling without thermal appliances
For example, to get hair volume, you can use large curlers.
Wrap them on wet hair (with a little foam or mousse) and leave them to dry for a few hours.
To create curls, you can braid on wet hair; gently dissolve them, and fix them with hair spray after drying. And here we are, having curly and coily hair.
Cut with hot scissors
With this type of haircut, the tip of the hair is sealed, so that the cuticle is protected from harmful effects. And the hair looks neater.
Bet on negligence
Sloppy movable haircuts will help mask the imperfections of porous hair. Note the pixie with asymmetrical bangs or cascade.
The medium and short length is the most successful
Long hair with a porous structure is especially difficult to care about. Pay attention to shoulder-length haircuts or short options: they look the neatest.
Avoid pulling hair while doing your hair
If you want braids – then not tight, if – high hairstyles – then with minimal twisting and dragging of hair. The ideal option is a voluminous shell or a relaxed pigtail spikelet.
What you need to avoid while buying products for high-porosity hair care
To protect high-porosity hair from any additional damage please refer to the below "persona-non-grata" components in your care products:
sulfates.
formaldehydes.
parabens.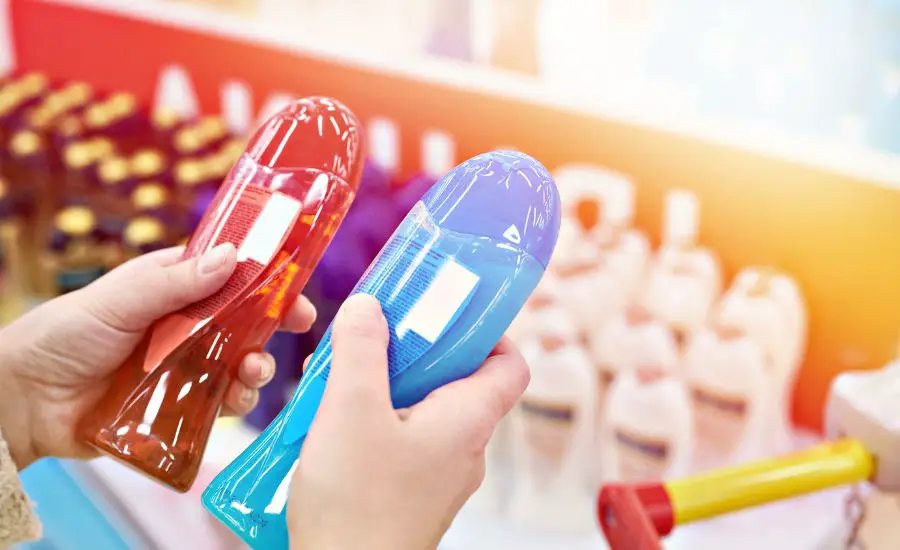 List of recommended cosmetic products for high porosity hair
Pre-shampoo treatment:
Oribe Run-Through Detangling Primer. You will absolutely love this product as it allows you to run smoothly through your hair, not encountering any knots. Besides, it hydrates, seals cuticles, provides UV protection, and contains a mix of apricot, pomegranate, and coconut oil.And, of course, it contains no parabens, no sulfates, or sodium chloride.
Rene Furterer Paris Complexe 5 Pre-Shampoo Detox treatment. You will feel like you are undergoing a SPA procedure. Apply it gently with a conveniently provided applicator. Wait for 5 min and then use your shampoo. It strengthens hair roots and makes them shine like natural hair. It promotes hair growth. The adorable scent stays with you.
On top of that, you will get your scalp deeply purified, improved inner circulation, and, despite containing oil it won't leave an oily sensation.
Indeed, the product doesn't contain any forbidden ingredients mentioned earlier in the article.
Shampoo:
The best options are suggested in the review above.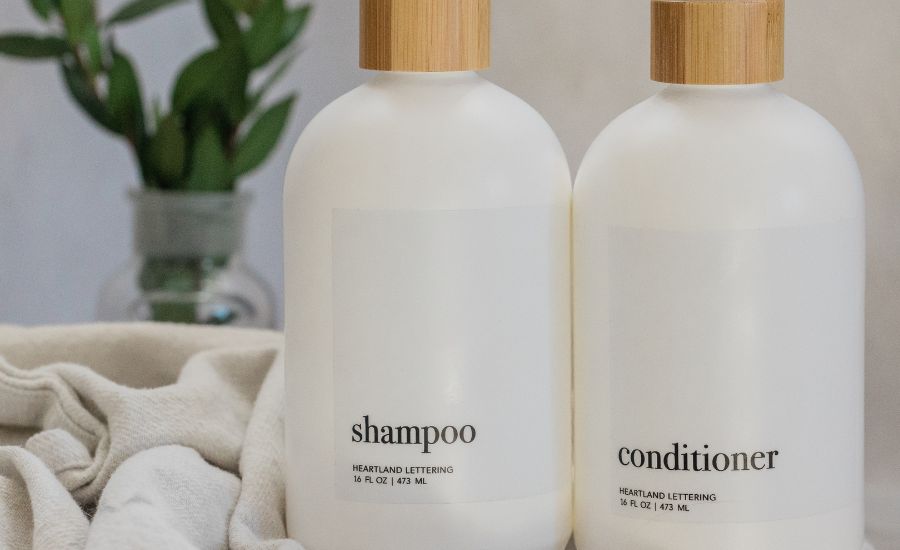 Conditioner and leave-in-conditioner:
Mielle Babassu Mint Deep Conditioner. The main working components are Babassu seed oil. You can be used weekly. It's working well for natural hair too.
SheaMoisture Manuka Honey & Mafura Oil Intensive Hydration Hair Conditioner. It fills in the gaps in your hair cuticles and covers them with a protective wrap. Fig extract and baobab oils are great for high-porosity structured hair.
Camille Rose Algae Renew Deep Conditioner. It has nurturing mango butter, manuka honey, and aloe vera, plus lots of moisture – hemp seeds oil & blue-green algae. It is a caring bomb to treat hair porosity.
Marple Holistic Silk18 Conditioner. Among other ingredients are pure silk amino acids, jojoba oil, keratin, and our beloved sea butter. It's a great choice for hair porosity. Has a nice light vanilla scent.
Redken All Soft Conditioner. Easy detangle your tresses, leaves your scalp Ph-balanced. The Choice of Professionals – this is the best formula to treat high porosity hair.
Design Essential Natural Hair Almond and Avocado Leave in conditioner. The main components are coconut milk, almond, and avocado as you may guess from its name. Best for high porosity hair.
Oils:
Olaplex N#7 Bonding Oil. It leaves high porosity hair shiny and soft, strengthens hair fiber. It can be used even for healthy natural hair and low porosity hair.
HSI Professional Argan Oil Heat Protector. It's developed for natural hair, but you can also use it for high-porosity hair.
Masks:
Earthtones Naturals Curl Enhancing Jelly. The formula contains Aloe leaf juice, panthenol, and sea kelp.
Briogeo Don't Despair, Repair! Deep conditioning Mask. The Mask contains rosehip oil, B vitamins, and algae extract. It fits all types of hair, including low-porosity hair, high-porosity hair, and healthy natural hair.
Mousse:
Camille Rose Spiked Honey Mousse. It's a great choice for braided, curly, and coily hair. It's good for high-porosity, low-porosity hair, and healthy natural hair.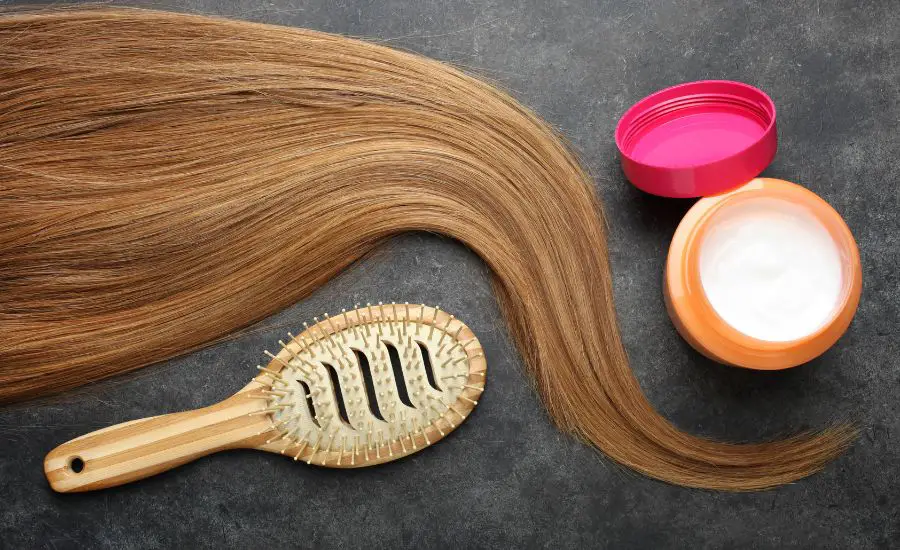 FAQs
What kind of shampoo is good for high porosity hair?
First of all, such shampoos should be sulfate-free. It is better to use the mild and gentle surfactants like non-ionic glucosides based, sodium lauryl sarcosinate, sodium cocoyl isethionate, Cocoamidopropyl Betaine,disodium cocoamphodiacetate.

Besides, they should contain moisturizing agents like betaine, propanediol, and panthenol. On top of that modern tools for high porosity hair usually contain castor black oil, shea butter, olive oil, green tea leaf extract, argan and coconut oil, and hydrolyzed wheat protein.
What product is good for high porosity hair?
To make such hair smooth – to avoid knots appearance – the beauty industry designed special products called "pre-shampoo". They promote hair's health and moisture retention. They should contain essential oils.

The main thing to remember when dealing with high-porosity hair is that you shouldn't limit yourself to only one product. Even a shampoo should be interchanged by a scrub once a week. Not to mention other products like oils, deep conditioning, masks, and serums.
Does high porosity hair need shampoo?
Cleansing is the utmost important step in taking care of high-porosity hair because it easily absorbs everything (dirt, dust, scents, etc).
How often should I wash high porosity hair?
It usually depends on hair type. Usually once in two days, but if your scalp becomes greasy very quickly you better not leave your high-porosity hair unwashed (use a different softer shampoo, for instance).

Choose wisely as the amount of hair products are countless.
Conclusions
You can cope with hair porosity by various methods. Highly porous hair needs gentle cleansing shampoo, deep conditioner (called "leave-in conditioner"), regular hair mask, serums use, and even beauty salon procedures from time to time.
Thankfully, there are various hair products you can choose from and to achieve the so-called "synergy" effect, you better go with the same product line/make.
Don't forget to account for your scalp skin type.
That's why you should stay away from activities and products that can damage further your hair.
Hair porosity care is all about keeping such hair hydrated (retaining moisture) and strengthened.
Good luck in getting /keeping healthy hair!
What shampoos do you use? Write your impressions in the comments, I will also try these options and write a review about them with my impressions.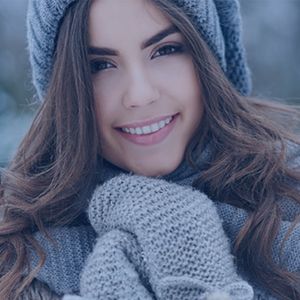 I'm Amelia. I have been working with hair care product shampoo and conditioner for 6 long years. This website is an outlet of my deep passion for hair, Shampoo and Conditioner. Basically, I'm here to guide you on shampoo and conditioner.