I'm Amelia. I have been working with hair care product shampoo and conditioner for 6 long years. This website is...Read more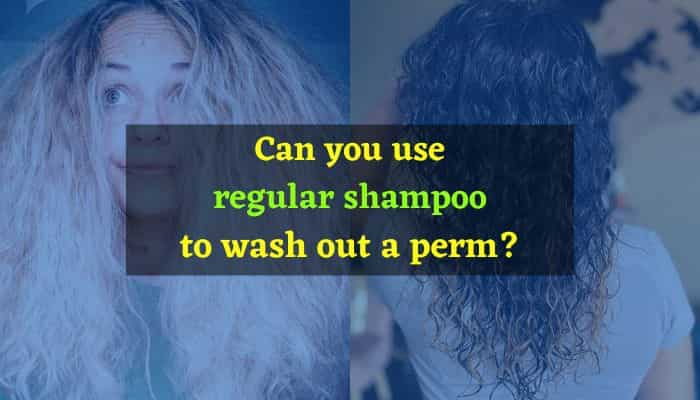 Are you thinking about getting a perm? Have you already got perm hair and need to remove it? Perming can be one of the best ways for different types of women.
Can you use regular shampoo to wash out a perm? Actually, you cannot use regular shampoo if you would like to remove perm hair. If you have already perming hair, the chemical effect on your hair. If you use normal shampoo, your hair may get more frizzes. So, you need to use a clarifying shampoo, or extra care.
Today I would like to talk about the step-by-step guide on how you wash out your hair to reduce Perm. So, let's start it!
Is there anything I should know before washing out my perm?
You should wash your hair after 48 hours of having Perm. Having the Perm washed right away can damage your curls and may cause excess frizz. For that reason, the salons often recommend women wait at least 48 hours before washing out their Perm with running water and shampoo. If you wash your hair before 48 hours, even if you use warm water instead of hot, you will probably lose those curls.
Though your hair texture is unlikely to revert back to its normal state, it is not unlikely that you will acquire weak curls with an uneven shape. If your hair likely needs to be washed and conditioned following a perm, blow drying will give your hair the results you're after. A temperate heating system can cause hair loss, split ends or dryness. Though, blow drying on permed hair causes no good, it helps avert or minimize any problems.
Regardless of your hair's type or texture, oiling it can benefit your hair. After receiving a perm, most hair stylists recommend you not oil your hair for 1 week. Still, it's safe to oil your hair following that. In fact, oiling your hair before each washing can help you avoid greasy hair.
If you're thinking about getting hair permed, be highly advised that it is a tough, severe process that can permanently alter your hair's texture. So, it is recommended to visit a friend or a professional instead.
Additionally, it's beneficial to discuss your concerns with your beautician whenever you have doubts about perming. Your stylist has the necessary expertise to provide you with personalized advice when it comes to preserving the health of your hair.
Can you use regular shampoo to wash out a perm?
Advertising for hair products intended to restore dry, damaged hair, you can't permit your hair since it can lead to excessive dryness, causing your hair to require extra moisture. Avoid shampooing, conditioners, and serums for wavy or curly hair. Use dry shampoo instead of shampooing your hair a couple of days beyond this time.
Hair perming, though safe, may result in dryness. Hair perming needs harsh chemical agents on your hair and could cause damage, frizz, and dullness. If you do not take good treatment of your hair. Hence, switching to a hydrating shampoo and conditioner may be encouraged after perming.
Hydrating Shampoo and conditioner can reduce the damage caused to this chemical procedure and add bounce back to your curls. For that reason, it's recommended that you wash your hair after processing it with a perm with a hydrating shampoo and conditioner.
How can you wash a perm out of your hair?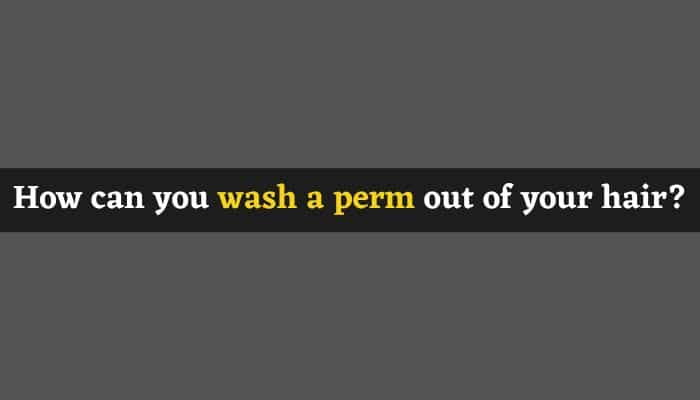 To wash the Perm out of your hair, you need to do this with a deep conditioner that helps with the Perm. If you want to check if it has worked, you must wash it out again in 2 weeks. You can also use products like Pureology's Feria Hair Treatment.
You should apply it once or twice a week and leave it on for 1 hour. Your Perm may not be removed fully, but it will improve, and your hair will feel cleaner. Do not ever wash a perm with regular shampoo as this could cause damage, so you need to buy more expensive products to remove them.
How do you neutralize a perm step by step?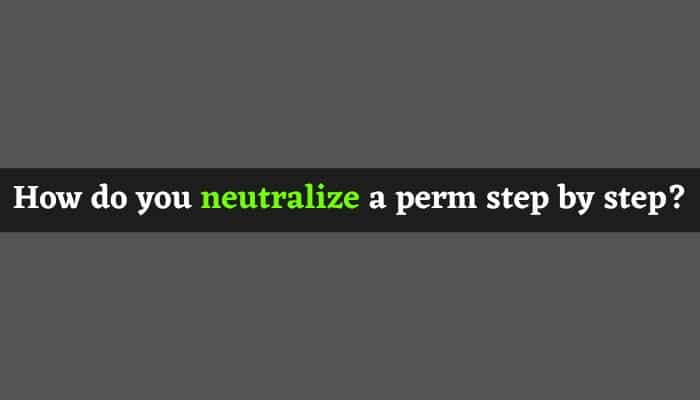 You have to choose between a few options when you want to undo or remove a perm. There are a few viable options, such as removing or undoing the Perm that is considered somewhat effective.
But safe up to very effective and thus possibly damaging to your hair. I suggest you experiment with the softest methods possible and only work your way up to the more damaging ones if these do not work.
There are a few ways to remove a hair dye that you don't like using natural ingredients, normal hair care products, and stronger chemical treatments. I'll take a closer look at the pros and cons of each solution to help you decide which will be the best for the health of your hair.
Relax and loosen the perm
If you've got a perm and want to eliminate it, start by browsing items and ingredients you can use to relax and loosen up your Perm. These methods will be most effective if you try them as soon as possible, ideally within 72 hours of your Perm.
When you seek to permanently swap the prior condition of your hair, you are unlikely to get all hair breakage. Nonetheless, these procedures should unwind your unwanted Perm substantially to have better control over your hair until it's prepared to be repaired or chemically straightened.
Wash with clarifying shampoo
After rinsing out a perm solution, the remedy is activated using a neutralizing shampoo that re-neutralizes the pH of your hair. Right after rinsing out, the solution is neutralized. It continues to work and keeps your hair's pH at normal levels because it remains active for up to the first 48 hours.
If you shower, shampoo, or condition your hair type within that period, you risk damaging your hair. But if you ever hate your Perm and desire to remove it, that's what you should do. Take proper care of your hair at the earliest opportunity if your Perm didn't turn out as you wanted it to.
After perming your hair, you should shampoo it within 72 hours afterward. The sooner you wash it, the more it will loosen the curl pattern. Afterward, apply a heavy conditioner to add weight to the hair and further relax the curls. Afterward, apply the conditioner to your hair again and brush it out the entire day.
Use a deep conditioning treatment
The majority of deep conditioning and hair masking treatments require that you leave them on for a prolonged period before efficiently ironing out permanent waves in hair. If you've got your hair in your chosen treatment or mask, cover it with a shower cap and leave it on the hair for at least 20 minutes, preferably overnight. When finished, rinse the product out until your scalp and hair are entirely free of any sticky residue.
Give yourself a straight perm
You should wait half a year after your Perm to try a straight perm. Maintain the overall health of your hair by using a gentler acid perm that uses a perm solution that has glyceryl monothioglycolate in the recipe instead of ammonium thioglycolate.
Talk to your stylist first if you are unsure about trying out chemical reactions like this at home. It will be safer to go straight permed by a professional at the salon than to try such a process at home.
Only inform your stylist before attempting a difficult chemical treatment like this at home. It's safest to have a straight perm done in a professional salon.
Visit a professional
You may want to avoid that remedy, but deep down, you know that going to a qualified professional when you have to have a perm removed is the best thing to do. Since a stylist has direct access to more effective chemicals than you do, they are the best choice.
They also have skill and experience that allows them to help you reverse a perm without causing your hair to be broken or fall out. If straightening your hair yourself seems like too much of a risk to you, or in case you were unable to get all the kinks out after shampooing, you may need to find a salon capable of performing a good perm for you.
The harsh chemicals that cause split ends and irreparable hair damage are just as damaging and deprived after a perm six months afterward. So, don't anticipate walking into any salon after your Perm and getting a straightening treatment or a relaxer six months ago.
You want to get a perm from a trustworthy, knowledgeable stylist. If you're satisfied with the quality of your new hair when the six months following the Perm are over, go back to that hairstylist around the globe.
How do I get the best results from my shampoo and conditioner when washing out my perm?
If you are looking to get the best results possible, then it is perfectly fine if you use a conditioner designed especially for this purpose or one that can also be used on your regular hair. When you buy conditioners designed for this purpose, they are often not just conditioning but have other benefits such as strengthening hair or fighting dandruff and other problems.
You should always choose a shampoo that is free of any artificial fragrances or dyes and has no harmful chemicals. You will also want to ensure that the shampoo does not dry out your hair. You will also want to make sure that you are not using shampoo too often because it can dry your hair and make it damaged. According to the literature, you should shampoo at least 3 times a week but no more than once a day.
Frequently Asked Question
Does shampoo remove perm?
Shampoo can remove some argan oils and dirt, but it is ineffective at removing Perm. Clarifying shampoo will help you to remove Perm. It is a chemical treatment that removes hair from the scalp.
Does water deactivate perm?
Yes, the water can deactivate Perm. The Perm will require oiling immediately after finishing. Water is an important element in reducing your curly hair. The Perm restores the curls back to the hair's original shape, so the Perm is curly.
Final Words
If I wrap up the entire topic and still you ask me 'Can You Use Regular Shampoo to Wash Out a Perm?' the reply will be "No," you should use special shampoo for your special hair.
While it is possible to wash out a perm using regular shampoo, it may not be as satisfactory. If you are experiencing irritation or discomfort, it may be worth consulting with a perm specialist to find a more suitable solution. Happy shampooing!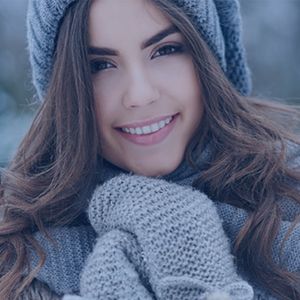 I'm Amelia. I have been working with hair care product shampoo and conditioner for 6 long years. This website is an outlet of my deep passion for hair, Shampoo and Conditioner. Basically, I'm here to guide you on shampoo and conditioner.