I'm Amelia. I have been working with hair care product shampoo and conditioner for 6 long years. This website is an outlet of my deep...Read more
Changing your hair color from red to blonde hair is a fun process. You can elevate your overall appearance by coloring your hair into lighter shades. The majority of people prefer trying out blonde. However, some hair colors require less effort to transition to blond than others. For instance, red hair is considered the hardest to switch to blond.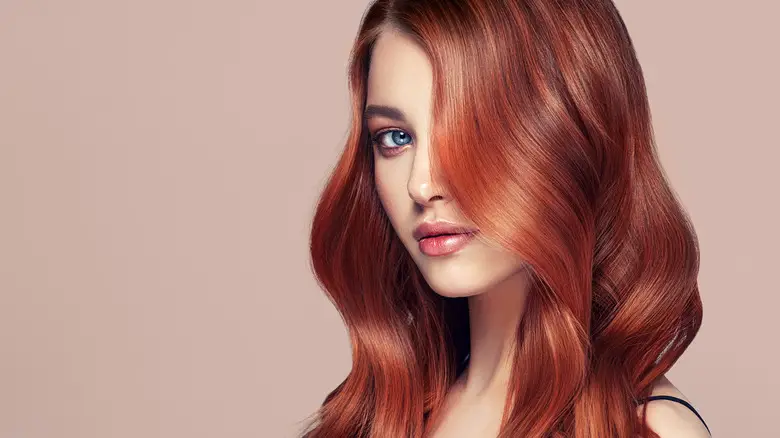 What do you need to know about red hair?
Natural red hair
If you own natural red hair, there are some things that you might want to know about its properties. 
Natural red hair is one of the rarest hair colors present in nature.
The red color in the hair appears due to a particular gene.
More precisely, the Melanocortin-1 Receptor gene represents this trait. According to scientific research, only 0.5% of the world's population carries this gene.
Additionally, people with red hair produce pheomelanin which is different from eumelanin. Eumelanin brings out brown or black colors, while pheomelanin varies from dark red to strawberry blonde.
Colored red hair
You might be more familiar with the bleaching process if you are not a natural redhead. However, changing your red hair to blonde can be a hassle.
Colored red hair fades quickly and turns orange. The main reason behind this is the properties of the red pigment. In comparison to others, red hair dye contains more sizeable molecules.
The molecules of the red dye bleed out from hair quickly, but some particles grip onto the hair pores and produce yellow tones. The brighter the color of the hair dye, the easier it fades and turns to an unwanted orange shade.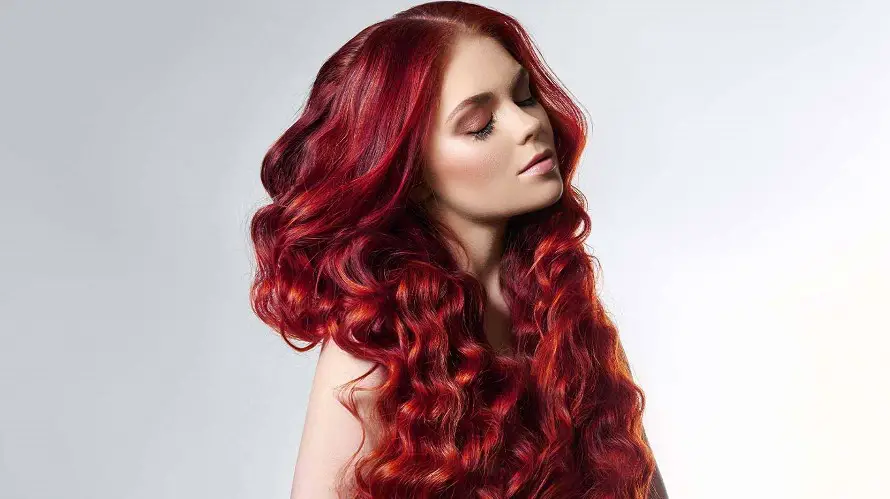 Things you need to do before changing your hair color
Check if the new blonde hair suits you
You can make sure that the blonde tones suit your aesthetics beforehand. You can do it at home. Try using apps or photo filters to see if the color goes well with your features. Additionally, you can try on some wigs to see how your dyed hair will look on you.
Prepare your hair
One way to transition natural hair color to blonde hair is bleaching. As we mentioned previously, getting rid of red pigments is difficult. It involves multiple steps of bleaching.
Bleach helps remove the color from red hair quickly but removes nutrients. However, it should be handled extremely carefully. Bleach is a strong chemical capable of burning off not only your hair but also your scalp.
Bleached hair tends to look more fragile and less shiny. Moreover, you are risking your healthy hair turning brittle and inelastic. If your hairdresser uses too much bleach, the hair starts to snap at the roots and fall off.
In addition, it is better to prepare for the procedure beforehand. Ask your stylist about the process and the type of bleach they use. Make sure to use only high-quality bleach because it contains better ingredients and additives.
To minimize hair damage, you can prepare your hair before visiting the salon.
Use less shampoo
Less shampoo and more conditioner will help your hair retain more nutrients. Therefore, your hair will be stronger and less likely to break off after bleaching.
Apply hair masks
Use hair masks on your hair and scalp. These are great for both before and after bleaching. You can buy a hair mask from the local store or make one yourself. Natural oils can work as a mask too. You can find these at pharmacies or eco-stores.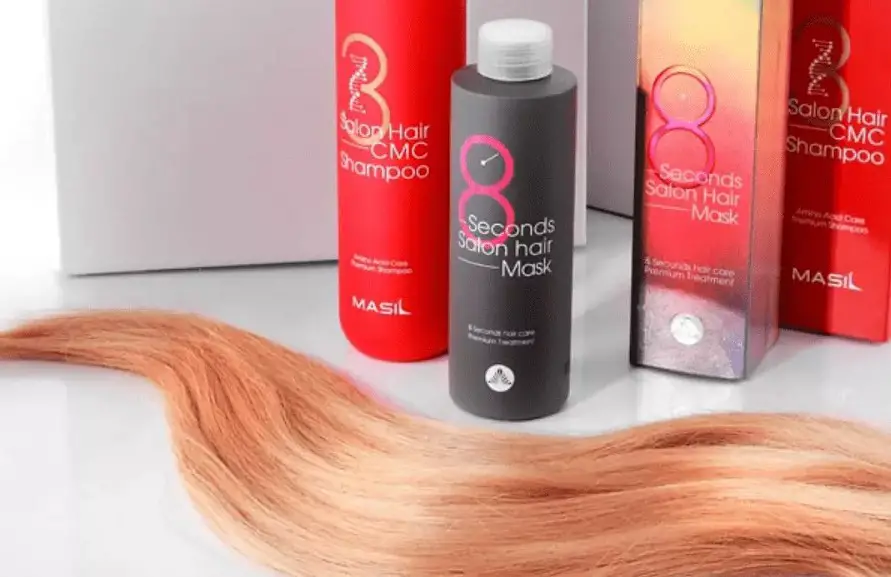 How to get red hair to blonde/platinum?
Get your hairdresser's help
If it is your first time going from red to blonde, a better way would be to attend your hairdresser and ask for professional advice. The hairdresser will help you achieve your desired color with less damage.
When visiting a salon, you will discuss your required results in detail. Your hairdresser might show you a color wheel and let you choose a shade.
When the discussion is over, your hairdresser will start a bleaching process.
Firstly, they will begin by bleaching red hair to remove color. This process is repeated several times to get rid of the orange tones in your hair. After removing unwanted tones, the hairdresser will apply light blonde hair dye to achieve a blonde color.
After obtaining the wanted color, you will need to use some products to maintain it. Your hairdresser might suggest you use purple shampoo to not let your hair turn orange.
Additionally, color-treated hair tends to get dry over time. Therefore, it is advised to use heat protectant spray when drying your hair. This way you can reduce heat damage.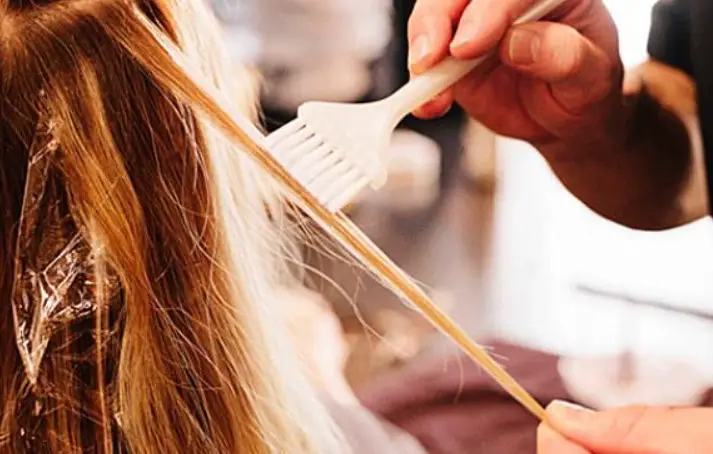 Bleach red hair at home
To avoid spending money on the salon, try bleaching red hair at home. However, we recommend watching tutorials and getting acquainted with the process before taking any measures.
Bleaching hair at home can become annoying if you don't know the procedure precisely. Therefore, we advise you to learn about the process before you decide to begin.
As mentioned earlier, bleach is a chemical that may burn your skin if used improperly. Thus, you need to check the tiniest details of its use in advance.
You will need to buy a color remover bleaching powder, a color developer, and a toner.
Remove the previous hair dye using the color removerIf you have colored hair, you have to remove it beforehand to prevent unneeded results. To get your wanted color, start with a clean plate.
Choose the right color developerThe color developers come with different percentages. Local stores present 10, 20, and 30-volume developers. The darker your hair, the higher the volume.If you have strawberry-blonde hair, you'll need a 10-volume developer. Low-volume developers will make your hair one shade lighter.If your hair is dark red, a 30-volume developer might be the best for you. Higher volume developers lift the color from your hair and let you achieve the lightest tone without causing too much damage.There is also a 40-volume developer in the market. However, we recommend avoiding these due to the complexity of use. The 40-volume developer is better left to professionals.
Mix the bleach powder of your choice with a developerYou can purchase bleach powder in a local beauty supply store. Specialists suggest acquiring a bleach powder from the same company as the developer. This way, the compounds will be more compatible and prevent unexpected results when bleaching hair.Mix your bleach and developer in a plastic bowl. Depending on the length of your hair, you might need to increase the volume of the mixture.Use gloves when both mixing and applying bleach to your hair.
Section your hair into fourBegin with parting your hair in the middle. Then section your hair from ear to ear. You should have four sections. Use clippers to keep your hair in place. Leave one section to apply bleach.
Protect your skin and clothes from the bleachCover open areas of your skin with a towel or a shirt to prevent contact with bleach. Prepare a wet towel to wipe the bleach droplets.
Apply the bleach to the first sectionStart by applying bleach closer to the hair roots and spreading it towards the ends. Apply bleach to the dry hair. You can spread the bleach with your hands or a brush. Make sure to apply the bleach evenly.After you applied the first strand, part the hair and continue till you finish the whole section. Unclip the next section and follow the same steps.
Leave the bleach for 30 – 45 minutesAfter every strand is covered in bleach, leave it for 30 to 45 minutes. Check on the process from time to time. Once your hair turns light yellow, the process is finished.
Rinse your hairWash the bleach off your hair. We recommend rinsing your hair with lukewarm water to calm your scalp and prevent breakage. Wash off the bleach completely from your head and check for residues. Bleach can irritate your scalp and your skin if left.
Tone your hairYou have multiple choices when it comes to toning your hair. This step is essential if you want to acquire platinum-blonde hair. You can choose between applying a toner or using purple shampoo for a gentle experience.Mix a toner with the developer and apply it to your hair. This process is similar to when you bleach red hair. Move from hair roots toward the ends. Repeat the process strand by strand. Let it sit for 30 minutes and rinse with lukewarm water.Alternatively, purple shampoo is a suitable option for toning your blonde hair. Moreover, it is a great addition to your hair care routine to maintain a platinum blonde color.
Do not use shampooWe recommend you not use shampoo when rinsing off the bleach and toner from your hair. Both of those products are harsh on the skin. When applying shampoo to your scalp, you might irritate it even more.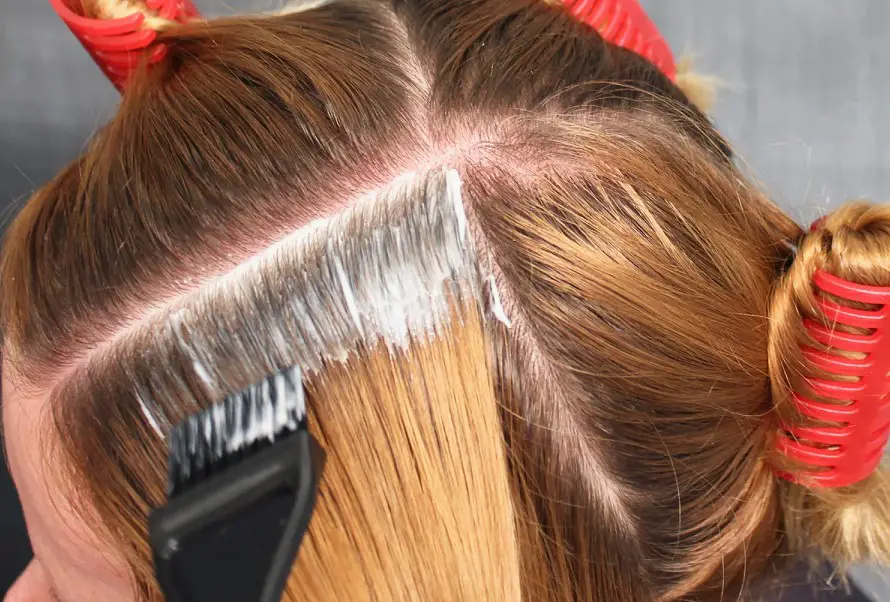 How to maintain blonde hair?
Congratulations! You successfully turned your red hair blonde. Now we need to take on how you can enjoy your new blonde hair without worrying. Let us look at the tips that you can incorporate into your routine.
Use products for color-treated hair
Swap your everyday products with professional care products.
Some stores provide products for bleached hair, which is an even better option.
These are the best for keeping your hair tone and are highly nutritious.
Protect your dyed hair from further damage
Incorporate products like a leave-in conditioner and heat protectant spray while drying your hair. This way will reduce exposure to heat and prevent hair breakage.
Additionally, avoid washing or rinsing your hair with chlorinated water. Chlorinated water dries out your hair, causing breakage. Moreover, chlorine in the water alters the color of the hair and makes it appear more ashy-green. Chlorine water is usually contained in pools, therefore, consider wearing a swimming cap or avoid dunking your hair underwater.
Decrease the usage of heat tools
As mentioned earlier, too much exposure to heat weakens your hair. Avoid using curling irons, straighteners, and blow dryers as much as possible. Not only do they damage your hair by applying heat, but also physically.
Consider swapping heat tools for other options. Nowadays, the market provides a variety of heat-less tools to style your hair. You can choose from options such as heatless curling rods, curling ribbons, and other overnight tools.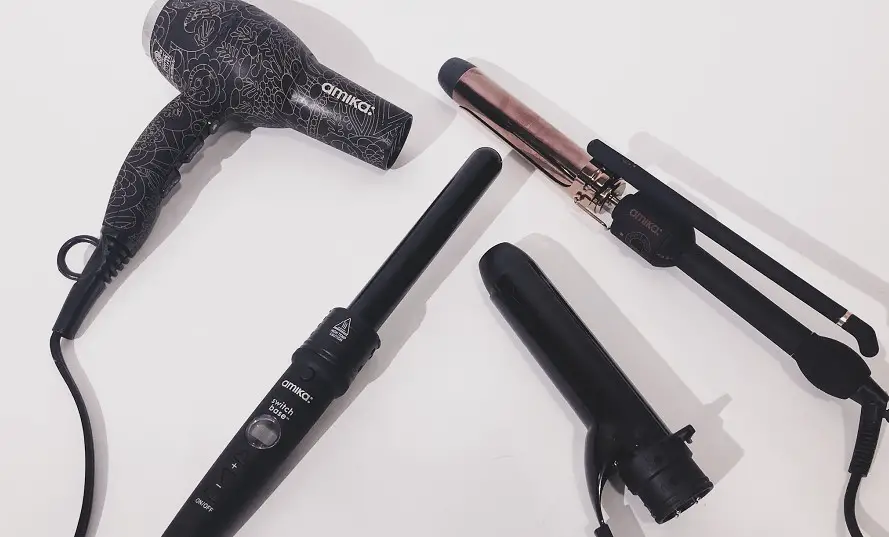 Can you dye red hair blonde without bleach?
There are some ways to dye red hair blonde without bleach. These might be essential for those allergic to bleach or to avoid damaging their hair.
Transform from red to blonde using DIY bleach
You can use lemon juice to lighten your hair color. The acids in the lemon juice might be efficient in achieving lighter hair.
However, lemon acid is not as intense as bleach powder. Therefore, one should not expect a drastic change. Nevertheless, lemon works just fine to freshen your look and achieve blonde highlights.
On the hand, you can use baking soda to make your hair turn lighter in color. You can mix baking soda with any solution of your choice. Some options include water, shampoo, and conditioner, or add it to lemon juice for a better result.
These methods will work for those with a lighter shade of hair color rather than those with dark hair.
Additionally, products like honey and artichoke are used by the DIY community to maintain blonde hair.
Red to blond hair by using hydrogen peroxide
Hydrogen peroxide is an active agent that works well on some red hair types. The active chemical components effectively remove the color from hair. You can achieve 2-3 tone lighter hair by using peroxide instead of bleach.
Red to blonde hair using blond dye
Another way to achieve platinum hair is by using blonde dye. This method is great for those with light red hair. If your hair is light enough, using blonde dye will turn it from red to blonde.
If you would like to achieve platinum hair, consider purchasing a high-lift dye. After coloring your hair with a dye, rinse your hair and apply purple shampoo for a toning effect.
Dying red hair to blonde using purple shampoo
The purple shampoo will work well for those who own a lighter shade of red hair. For example, purple shampoo can turn strawberry-blonde hair to platinum without bleaching.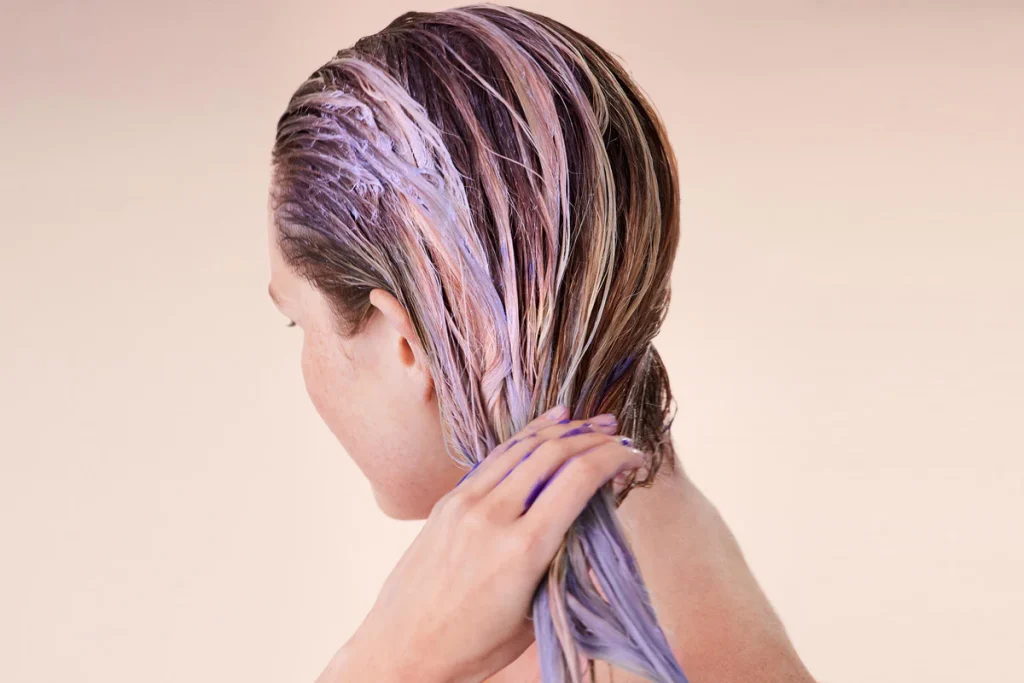 What happens if I put blonde over red?
If you use permanent box dye on your hair, the results may end up different from what you expect. Many people use box dyes with the assumption that when layered on top of red hair, this will result in light-pink hair.
Usually, coloring red hair with blonde box dye results in a brassy orange or coppery color. The main reason is that combined yellow and red pigments produce an orange shade.
Using semi-permanent hair dye might be a bad idea too. Semi-permanent hair dyes cannot lift the natural color from the hair. Therefore, you might end up having the same shade of red that you began with or experience a slight shift to orange color.
These are the main misconceptions when transitioning from red to blonde. To avoid mistakes, consider seeking professional advice on the subject. Visit your stylist and discuss your further actions in detail. This way, you will be able to avoid ruining your hair.
We discussed all the possible ways of changing your hair from red hair to blonde. What if you are thinking about turning a redhead again? Is the process any different from tuning to blonde?
If you want to become a redhead, you can dye your hair back red. You won't have to bleach your hair to achieve the wanted color. You already have a clean canvas to add any color.
Bleached hair holds any color for a long time.
A vibrant red color can be achieved by adding red dye to your hair.
However, if you want to achieve the darker red color, you need to work around it a little harder. The hair strands become porous after decolorants. Therefore, you must dye your hair several times before requiring a rich, dark shade.
As you can notice, returning to red is not a straightforward process either. If you are unsure whether you want to fully convert into a redhead, consider playing around with other techniques. For example, you can try highlights, balayage, and others.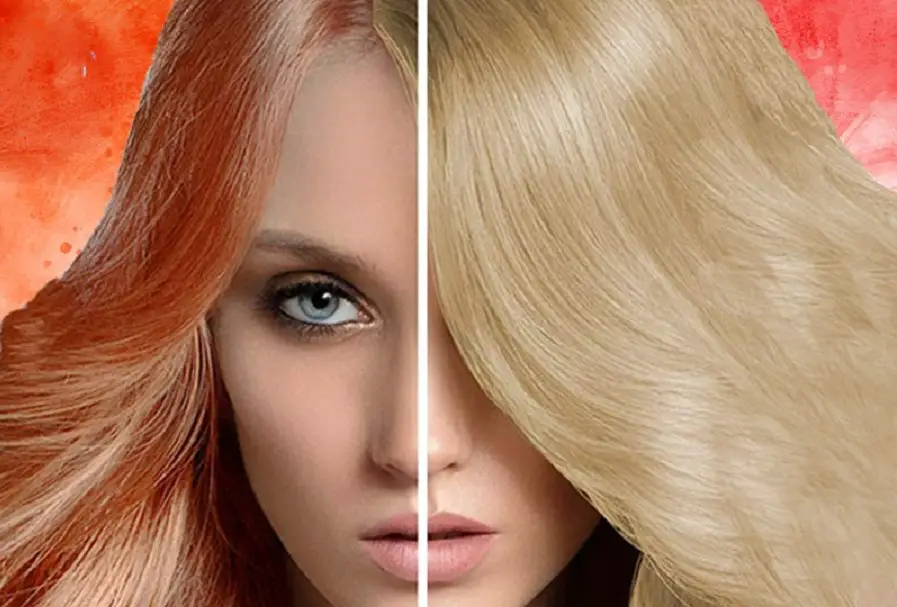 Conclusion
As you can see, going from red hair to blonde is not a walk in the park. Sometimes it takes a lot of thought and experimenting before finding a perfect shade. Your hair color can drastically alter your look. Therefore, don't decide to change to blonde on a whim.
However, if you are decided on your final thought, there is more than one way to turn from a redhead to a blonde. Choose the method that works best for you.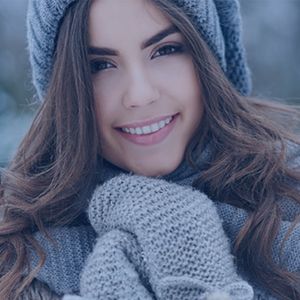 I'm Amelia. I have been working with hair care product shampoo and conditioner for 6 long years. This website is an outlet of my deep passion for hair, Shampoo and Conditioner. Basically, I'm here to guide you on shampoo and conditioner.