I'm Amelia. I have been working with hair care product shampoo and conditioner for 6 long years. This website is an outlet of my deep...Read more
Isn't it fun to be able to completely change the look once in a while? To have an edgy bob today and a feminine braid tomorrow? Indeed, it's a lot of fun. We usually have our hair extensions done at a hair salon. This kind of work takes time and skill. But taking the hair extensions out seems easy. Can we do it ourselves at home? Indeed, we can.
Let us walk you through this process of removing the hair extensions. The way you remove hair extensions will depend on the type of extensions you have. We'll look into the most popular ones used now.
And before we get into it, here's a piece of advice: if you can avoid this DIY project, it's better you do. Delegating such tasks to the qualified professionals is always the wisest choice. Improper hair extension removal can be harmful, and your hair will take the consequences.
However, life can throw different challenges at us, including the urgency of taking out hair extensions ourselves. And we never cower in the face of a challenge.
We can do it. Let's proceed.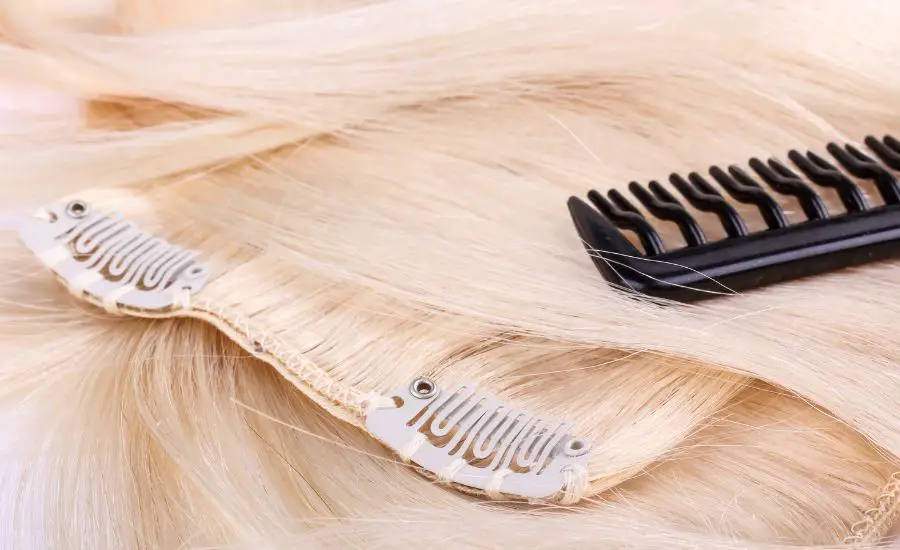 Arm yourself with the tools
Depending on the type of the hair extensions you intend to get rid of, you will need a certain number of tools. In the list below, we included all the things that you may call for.
A hair brush used for extensions
A comb (ideally a professional comb used by hairdressers)
Narrow pointed pliers
Hair clips for hair division
Scissors
A clamp tool for hair extensions
Tape extension remover (for tape hair extensions)
Hair care products (shampoo, conditioner, additional treatment)
Keratin bond remover (for bonded extensions)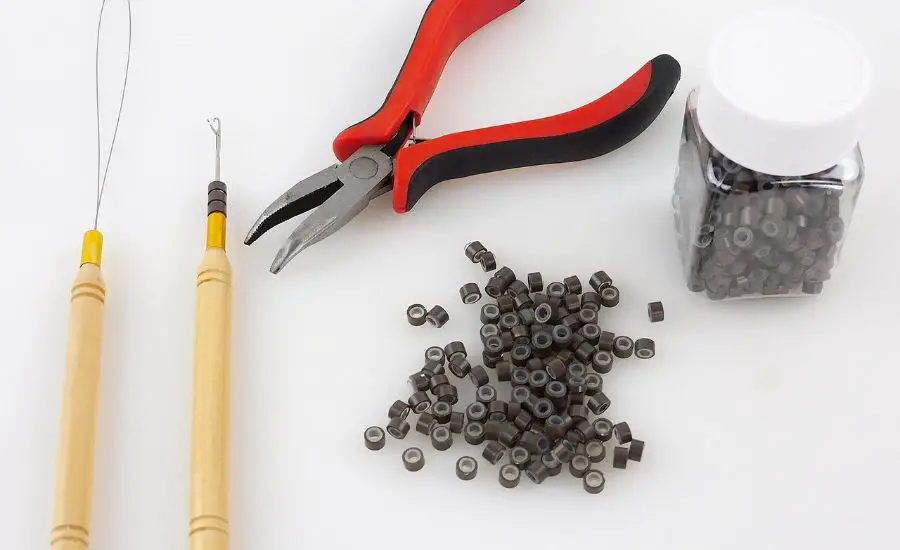 Removing hair extensions. Various procedures
As hair extension options are quite diverse, removing hair extensions will differ as well. Let us guide you through the most common hair extension types removal procedures.
Keratin extensions
Getting rid of keratin or bonded extensions is not the easiest process, which is why it's best done at a hair salon.
Nevertheless, it's still doable. Just make sure you are careful and gentle with your hair.
In order to take out bonded extensions, your objective is to break keratin bonds, which are formed with the protein called keratin produced by the human body. Every keratin bond should be gently removed, and it's quite a tedious kind of work. Damaging natural hair is not the result we're seeking.
You may want to involve a friend to help you. It will be more convenient if you don't have to take out all the extensions yourself.
#1. Use hair clips to separate your hair into sections. You'll start working from the nape area, so separate a row at the back of the head.
#2. One bond at a time, crack keratin bonds with narrow pointed pliers. They have to loosen up. Be careful not to damage your natural hair.
#3. Now you'll need a keratin bond remover. It's the best solution. If for some reason you can't, almond or argan oil will make do. Apply the remover into the cracks and leave them for about 12 minutes for the remover to penetrate the bonds properly.
#4. When the time is up, take out individually bonded extensions. It's critical to be very gentle with your natural hair. Improper removal of keratin extensions can lead to hair damage.
#5. Brush and comb your hair to catch any stray bond left accidentally in the hair and to remove any naturally shed hair. Keratin extensions are not harmful to your hair, although the removal process gone wrong can cause problems with your natural hair in the future.
#6. The final step is to cleanse the hair. Additionally to shampooing and conditioning, treat your locks with a high-quality treatment like a nourishing mask or oil.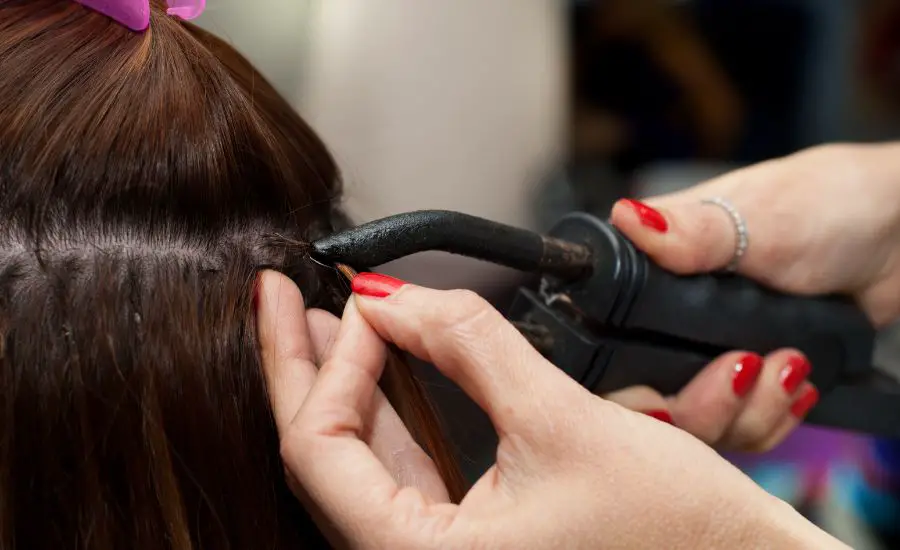 Sewn-in extensions
To equip a person with sewn-in extensions, the hair specialist needs to sew in extensions into the natural hair, intertwining the two. The removal process should do the reverse.
#1. Divide your hair using the hair clips. Make sure you'll work with a single section at a time. Begin at the back of your head. A pin tail comb used by professionals will come in handy here.
#2. Find the thread adjacent to the scalp where the extensions were sewn in and do the reverse.
#3. Now it's time to snip the thread and disentangle the extensions and your natural hair.
#4. Repeat the process with all the treads.
#5. Gently brush and comb your hair, ensuring that all the extensions are pulled out.
#6. Shampoo and condition your hair and indulge it with a deep treatment.
Tape hair extensions
As tape-in extensions are the least complex to put in, they are also easy to take out. A hair extension adheres with a special tape. Removing hair extensions every couple of months is the basic guidance for tape-in hair extensions.
Natural hair doesn't suffer from tape-in hair extensions, and removing tape-in hair extensions at home is usually not a problem.
Start with separating your hair into segments using the clips any hair stylist normally uses. Like with the previous techniques, you will start from the back of the head, from the bottom set of the tapes.
The best way is to use a tape extension remover specially designed for hair extension removal. Process the first set of the tapes by spraying beneath them and on top of them with the remover and letting the product set in for half a minute.
The remover is supposed to neutralize the adhesive, and the tapes should be easy to take out. Repeat the procedure for the entire head and remove all tape in extensions..
Gently comb the hair. It's possible that some of the adhesive has remained or a tape got accidentally tangled in your own hair.
Shampoo and condition your hair. Clarifying shampoo can be a good idea, as it will cleanse your natural hair from any hair extension related products. A clarifying shampoo, therefore, will be more effective than a standard one.
Although tape-in hair extensions are not aggressive to your hair, we still recommend deep hair treatment like a mask, oil, or a deep conditioner.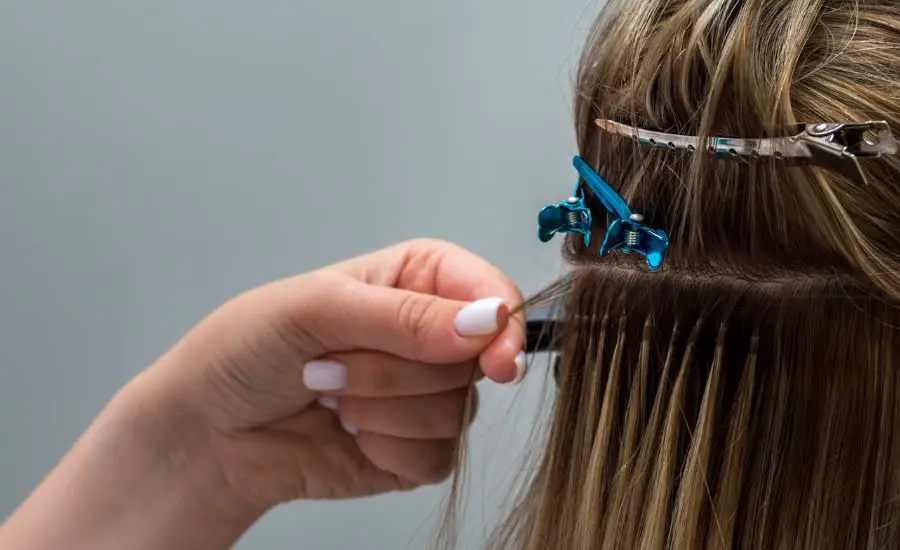 Nano ring hair extensions
Obviously, the connection is this hair extension is established with a tiny nano ring. Removing hair extensions of this type is not complex, but not exactly convenient either. If you remove nano ring hair extensions at home, we recommend employing friends to help.
But maybe it will be a piece of cake for a handy person like you.
Like with tape extensions, this kind of extension is due for a change every couple of months.
The first step will be common for all types of extensions. Prepare the work area by separating the hair and making sections with the clips. And as always, you'll start at the bottom of the hair. Separate a straight nano ring line with a comb and clip the rest of the hair.
Use a special clamp tool to open the nano ring by turning it in the opposite direction from closing. It should go easily and the hair extension will come out. Then continue with the next rings until the entire head is done.
Gently brush your own hair after the removal. This way, any accidentally forgotten ring will be discovered and removed as well as any naturally shed hair. It's always advisable to be thorough. Improper removal is potentially harmful.
Wash and condition your hair carefully and treat it with a good quality mask or oil.
Nano rings are extremely small, but there are also extensions with the rings which are a bit bigger. They are called micro ring hair extensions. The removal procedure will be the same for them.
Be safe
Hair extensions make a person look sexy and gorgeous. They look like our own hair and make the heads turn. However, it's still an alien object attached to our hair.
Let's be sensible and abide by simple rules to keep our hair healthy.
In the end, we don't have any excess hair to lose.
Before you sew in extensions (or use another method), make sure that your hair is healthy and thriving. Clean, moisturize, and condition it properly and treat it with some additional nourishment. Even with the least traumatic extension type, it still makes your hair more vulnerable.
The extensions you go for should be lighter than your hair. Or you risk losing some of the hair because the extensions will continuously pull on your hair damaging it. That will not do.
Removing extensions, be very careful. Gently comb your hair afterward to get rid of any remaining by-products.
Make some 'no extension intervals' and let your hair rest and recuperate.
Avoid heat styling with the extensions on. You can heat style the extensions separately without any problem, but exposing them to heat while they are attached to your hair can be harmful.
Don't allow your extensions to tangle. For example, you can braid hair for the night. It's completely normal. Comb the hair regularly. Tangled hair with extensions can cause mechanical damage to your own hair.
Follow a regular hair care routine. Wash your hair with a mild shampoo and condition it, providing it with moisture and nourishment. But don't cleanse your hair too much. It can cause dryness and shorten the life of extensions on your head.
Use the services of a professional hair stylist.
Don't wear the extensions longer than you're supposed to. Different extensions have different wearing periods, some should be removed after 2 months, some even sooner. If you overwear the extensions, they can get dull. Besides, your own hair will grow enough to make the extensions noticeable.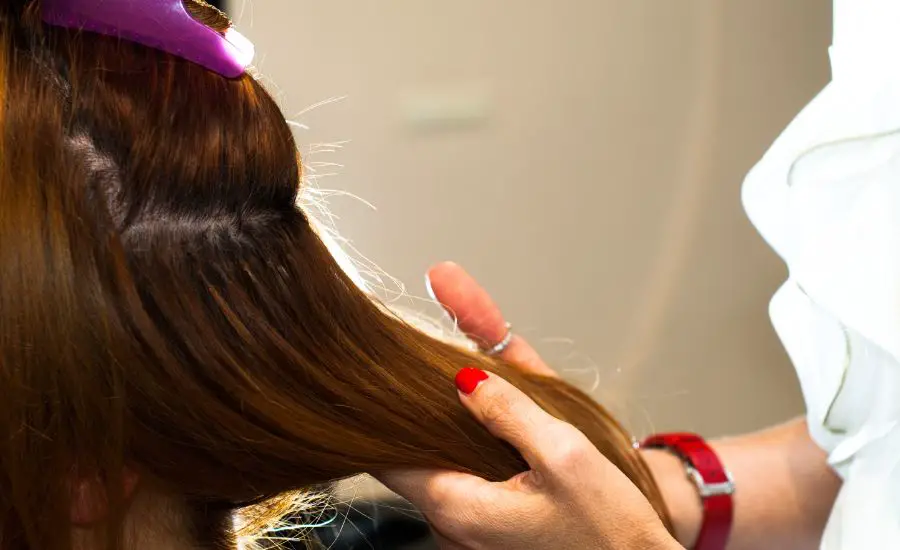 Final thoughts
In our article, we armed you with a step-by-step extensive guide to the hair extension removal. It's not complex, although it could be quite tedious. But if you are a fan of everything DIY, it will be a fun task to fulfill. Although, if the whole procedure seems boring, you can always get it done professionally. We'd even recommend that.
Frequently asked questions
How can I remove hair extensions at home?
It depends on the type of the extensions you have. If you have ring extensions, for example, they are quite easy to remove with a special clamp or hair extension pliers. Divide the hair into sections and open the rings by turning them in the opposite direction from clockwise. Don't forget to comb your hair carefully to make sure all the extensions were taken out.
What is the best thing to remove hair extensions?
The easiest type of hair extensions to remove outside the hair salon is tape extensions. You just need to use a special tape extension remover and then take the tapes out. Just don't forget that you need to do it in small segments and go from the nape to the top of the head, row after row, spraying the tapes, waiting for half a minute, and removing them afterward.
How do you remove hair extensions without remover?
There are some types of extensions that can be removed with special tools. For example, if you have ring extensions, you may remove them with a clamp tool. Bonded extensions can be taken out with special pliers. They have narrow and pointed jaws and are convenient to crack the bonds.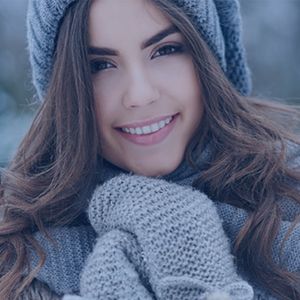 I'm Amelia. I have been working with hair care product shampoo and conditioner for 6 long years. This website is an outlet of my deep passion for hair, Shampoo and Conditioner. Basically, I'm here to guide you on shampoo and conditioner.