I'm Amelia. I have been working with hair care product shampoo and conditioner for 6 long years. This website is...Read more
I'm Amelia. I have been working with hair care product shampoo and conditioner for 6 long years. This website is...Read more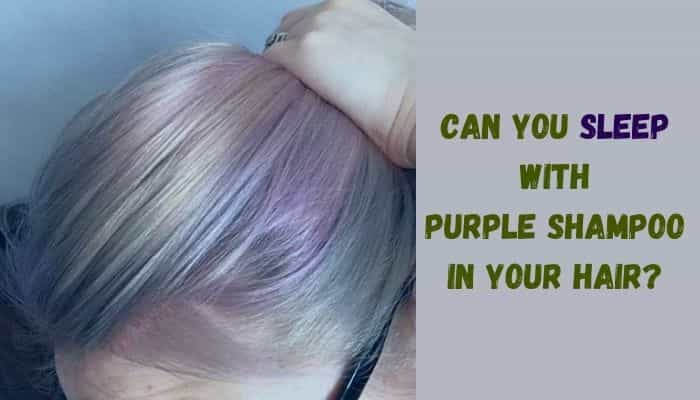 It is not a good idea for you to sleep with purple shampoo without rinsing your hair for the first time. Because it may cause build up also welcome dandruff to your scalp. So we recommend you not to go to sleep with purple shampoo and you can put it on your hair for 3 to 10 minutes max.
If you leave the purple shampoo for a long time then the hair look dull and lifeless. However, this won't damage your hair.
Your precious hair strands will only get back to the natural tone after using it so don't worry even though you keep the shampoo overnight without rinsing.
What is purple shampoo and why do people use it?
Purple shampoo comes with cool violet pigments that will be toning your brassy hair and bring back the original blonde color. It is an amazing solution to cancel out the brassy effect in blonde hair so after using it you can neutralize your hair tone. As a result, you will get to see the hair tone becomes brighter and shinier.
People use purple shampoo so they may get rid of brassy tone. Not necessarily, the blonde people will only use it, the people with orange, ash brown hair and brassy yellow hair color also apply it to neutralize the hair tone.
The purple shampoo works as a great toner to make our hair tone vibrant, bright and shiny.
What happens if you leave purple shampoo in your hair for too long?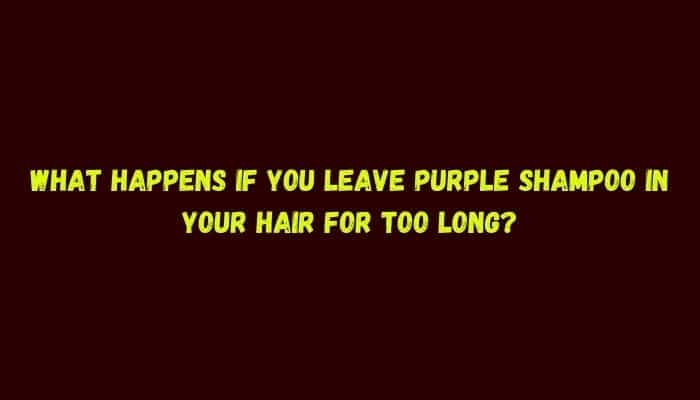 If you leave purple shampoo in your hair for too long, it can start to strip the color from your hair, leaving it looking dull and lifeless.
As we have already mentioned that the purple shampoo comes with the purple pigment so when you leave it for too long then the hair will become purple or blue color. It is because, the pigmentation process.
How does purple shampoo help your hair look healthy and shiny?
Purple shampoo comes with no harmful ingredients like sulfate and artificial tint just like any regular shampoo. Therefore, you won't have a chance for hair loss or irritation. For the better hair hair it comes with antioxidents, protein, and moisturizing ingredients.
The protein will improve the sturcture of keratin so when you are facing hair damage then it will save the guts. Moreover, it will help to repair bleach damaged hair. Such protein may easily penetrate the hair shaft and rebuild the hair strands.
Apart from the protein treatment, the moisturizing elements also plays an important role. Turns out, the hair retains the shiny and healthy look for the day long.
Let not forget to thank the Antioxidants as it works as a sheild against UV rays and air pollutants. Ultimately, it helps to get over the hair brassiness.
Can you sleep with it in your hair all night long without washing it out first?
It depends on a few things. Some people believe that it is perfectly fine to sleep with your hair in a style, without washing it out first. Others believe that it is not a good idea, as it can lead to breakage and damage.
If you decide to sleep with your hair in a style, there are a few things you can do to help protect your hair. First, make sure that your hair is completely dry before you go to bed.
Wet hair is much more susceptible to breakage than dry hair. Secondly, use a satin pillowcase. Silk or satin pillowcases are much gentler on your hair than cotton pillowcases. They help to reduce friction, which can lead to breakage.
If you have very curly hair, you may want to consider sleeping with your hair in a loose bun. This will help to prevent your hair from getting tangled while you sleep. If you have straight hair, you may want to consider sleeping with your hair in a loose braid. This will help to keep your hair from getting frizzy while you sleep.
Overall, there is no right or wrong answer to this question. It is ultimately up to you to decide whether or not you want to sleep with your hair in a style. If you do decide to do so, there are a few things you can do to help protect your hair.
What is the best way to grow long hair?
Here is the step by step process or simple trick to grow long hair:
Avoid heat styling tools as much as possible. If you must use them, make sure to use a heat protectant product beforehand.
Get regular trims. This may seem counterintuitive, but getting regular trims actually helps your hair grow longer and healthier by getting rid of split ends.
Use a deep conditioner at least once a week.
Don't wash your hair every day. This strips your hair of its natural oils and can make it more difficult to grow long and healthy hair.
Invest in a good quality brush and comb. This will help to avoid breakage and damage when brushing your hair.
Be gentle with your hair. Avoid aggressive brushing, rubbing your hair with a towel, and excessive shampooing.
Eat a healthy diet. Hair is made up of protein, so make sure to include plenty of protein-rich foods in your diet.
Get enough sleep. Getting enough sleep helps to reduce stress levels, which can impact the health of your hair. 
Reduce stress. High levels
Conclusion
Here we have shared our thoughts according to popular ideas of hair care from many hair experts. If you want to sleep with purple shampoo without washing then you can do this. But make sure you will not go with the wet hair.
According to our suggestion, we demotivate you to go for sleeping without washing your hair. Because, it won't give you any benefit. The best way is to clean and rinse your hair stain after applying the purple shampoo. Best of luck!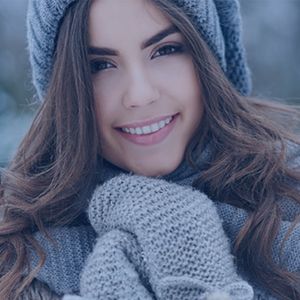 I'm Amelia. I have been working with hair care product shampoo and conditioner for 6 long years. This website is an outlet of my deep passion for hair, Shampoo and Conditioner. Basically, I'm here to guide you on shampoo and conditioner.